OPTIMIZE, DON'T COMPROMISE
Deliver a virtual showroom that transforms leads into deals.

Only Dealer.com allows you to create and control a complete virtual showroom. Our Seamless Website platform delivers unmatched mobile and desktop flexibility, comprehensive inventory merchandising, integrated advertising and retailing, and groundbreaking connectivity with vAuto®, Dealertrack®, XTime® and other Cox Automotive solutions. This unrivaled combination transcends traditional website limitations, allowing you to optimize every aspect of your digital marketing strategy.
BASE PACKAGE $699/MONTH
Seamless Websites, ControlCenter, Digital Advisor
CORE PACKAGE $1,299/MONTH
Seamless Websites, ControlCenter, Digital Advisor, Heat Mapping and Widget Mapping, A/B Testing, MyCars® Video, Automated OEM Incentives
ELITE PACKAGE $2,099/MONTH
Seamless Websites, ControlCenter, Digital Advisor, Heat Mapping and Widget Mapping, A/B Testing, Mycars®, Video, Automated OEM Incentives, PaymentDriver®  , TradeDriver® , FinanceDriver® , Reserve It Now
Seamless Websites
Optimize, don't compromise.
Informed by pioneering research into automotive shopping patterns, Seamless Websites provide a tailored, device-specific experience. Rather than simply a "scaled down" version of a desktop site, Seamless sites deliver optimal depth and detail through every individual device experience – from homepage to vehicle listings and details pages – resulting in intuitive efficiency, complete brand continuity, and greater engagement and conversion potential.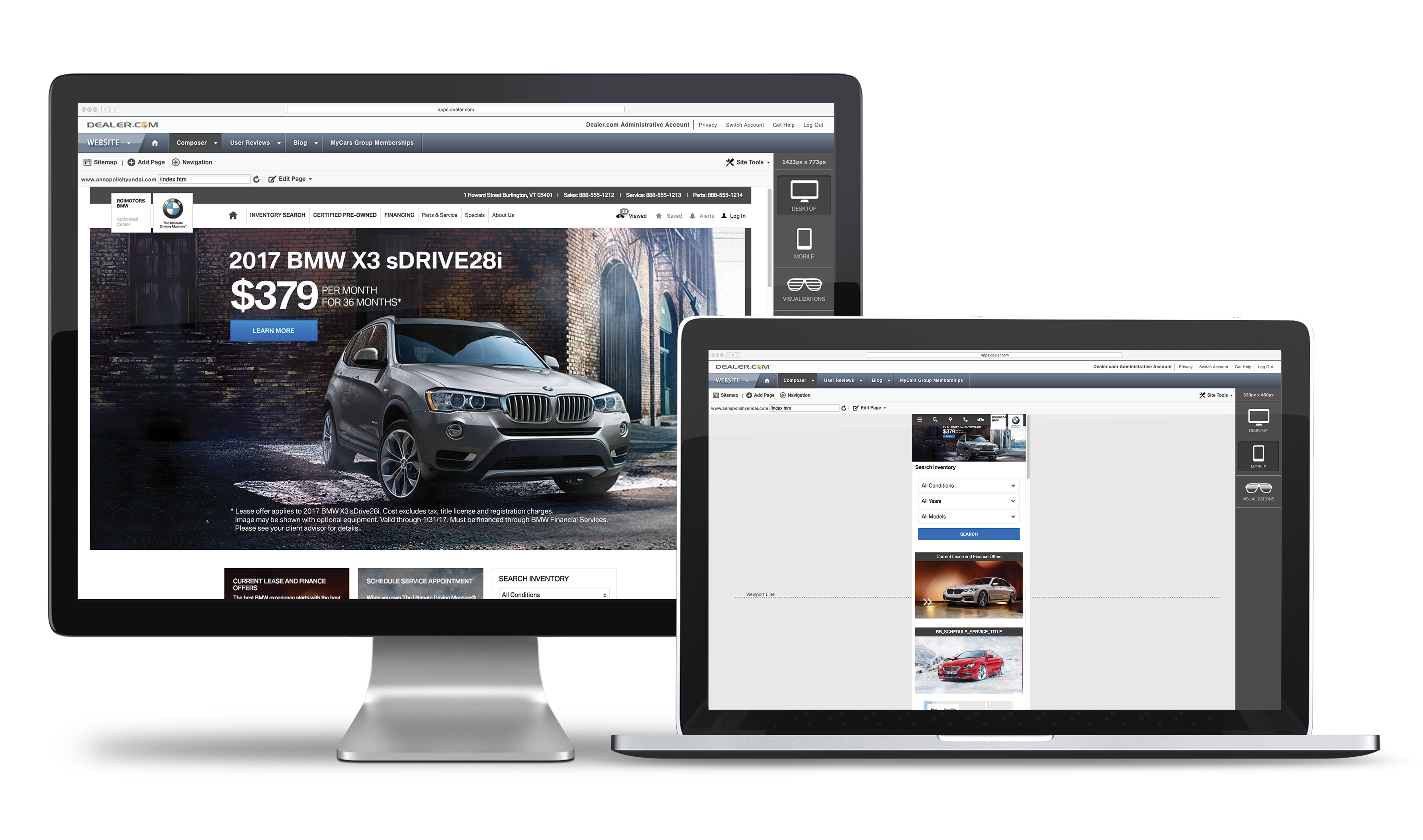 Each device experience – desktop, mobile, and tablet – is manageable and configurable in one intuitive Composer view, offering centralized control that combines the power of mobile automation with the flexibility of customization. Either make one update that cascades across every device experience automatically, or customize the experience across specific devices based on your particular strategy or insight derived from Seamless analytics.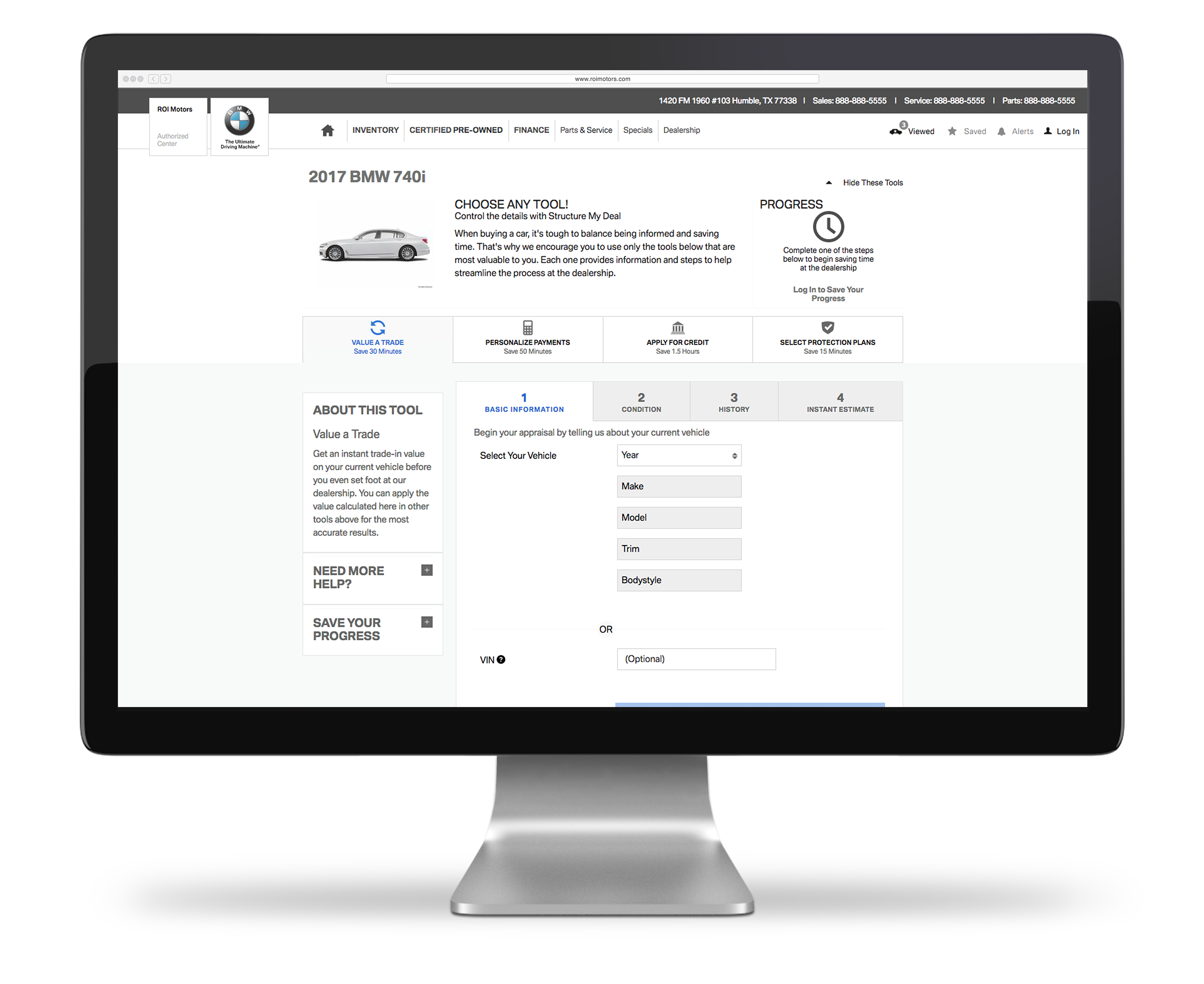 Accelerate My Deal
Turn shoppers into buyers.
Dealer.com Seamless Websites deliver a virtual showroom experience that allows you to start, and even make, deals online. This fully-integrated, uninterrupted cay buying workflow keeps your shoppers engaged while with an accelerated buying experience that's efficient, trustworthy and engaging. Payment, trade, and credit tools are all fully integrated into the experience, which means you get complete control over every aspect of your retailing strategy while your customers get a streamlined and intuitive path to purchase.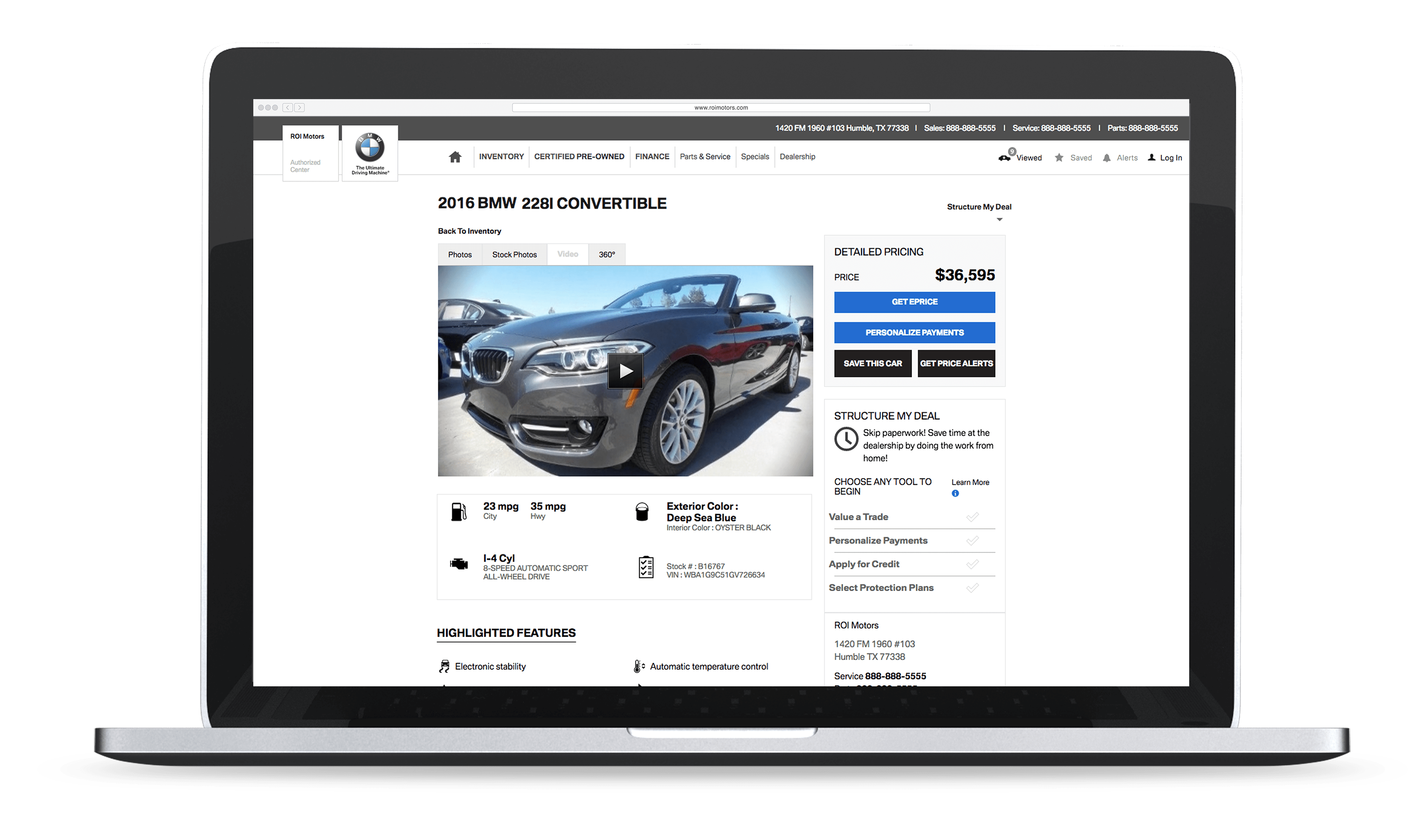 Video
Give every vehicle a star turn.
Carflix®, our patented video technology, generates a compelling, narrated video for every vehicle in your inventory. Each video is combined with an SEO-friendly video blog post to drive more traffic to your site, and is customizable and trackable to optimize performance. Best of all, Carflix is totally turn-key and automated, so you enjoy the benefits of video – longer time-on-site, increased SEO value, and more conversion – without any technical knowledge or extra time investment.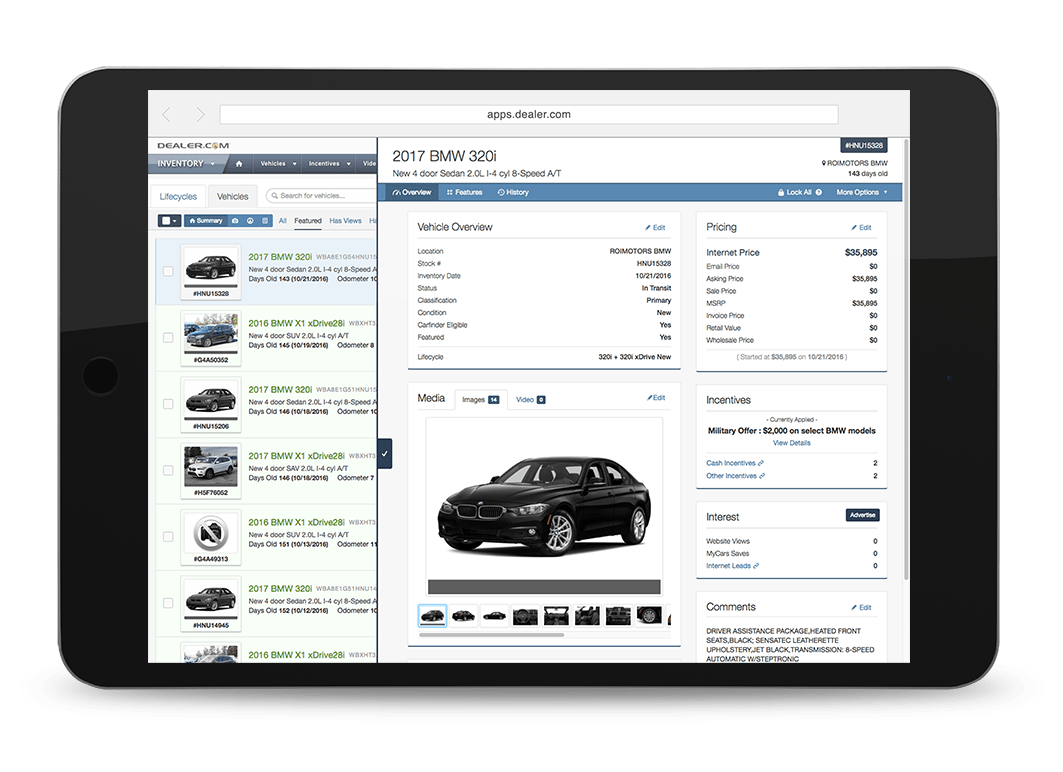 Inventory Merchandising
Dealer.com makes effective inventory merchandising effortless. Through one set of intuitive tools, you'll enjoy centralized insight into every vehicle on your lot, the ability to forecast more effectively, and the power to execute profitable merchandising strategy accurately and instantly both on your site and across the web.
Digital Advisor
Digital Advisors guide your Dealer.com experience. Expert navigators of our organization, they coordinate our teams and engage with top level dealership decision makers to ensure success – from initial launch to long-haul advocacy. Over the life of your Dealer.com partnership, they'll consistently work to understand your goals and suggest effective courses of action to map them to our technologies, services, and resources.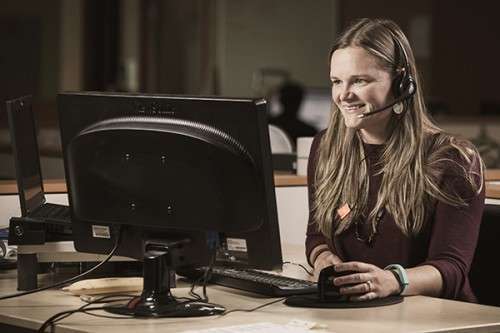 24/7 Dealer Support
When you need answers and resolution fast, call on Dealer Support. Our support professionals are here for you 24/7, and typically resolve technical issues in just one call. Working alongside the rest of your team, often just steps away from the engineers who design your solution, these continuously-trained professionals are always available to help you solve technical challenges quickly and easily.