Another month end, another incremental change by Google that could alternately bless or curse your future online presence.
Let's discuss the move away from Google Places towards the new Google+ Local pages, how they affect your customers, and what you need to know about the shift in local search.  The good news is that this change is gradual.  The better news is how much more valuable your reviews have just become.
Welcome To The Fully Connected Customer Review
Google+ Local
is the new 'center of gravity' for local search, according to Search Engine Land blogger
Greg Sterling
.  This is primarily because the new product has replaced Google Places, but also due to the fact that Local is directly integrated with all of Google's products that include Search, Maps and Mobile in ways Places never was.
So what does this mean for you and your customers?
From Google's point of view, it turns emotions like "Damn, there's another rust spot, I need to find a new car" into an outing to a local dealership: "Cool, there's a dealer with positive reviews six blocks away, I'm going to head there now."  See, the power of Local is in its ubiquitous availability across devices (Android, iPhone, laptop), reviewers (Anyone who has a Google+ profile), and purposes (Shopping, learning and sharing).
Here's what a dealer page looks like to a customer who performs a search for "Car Dealers in Grand Rapids, MI":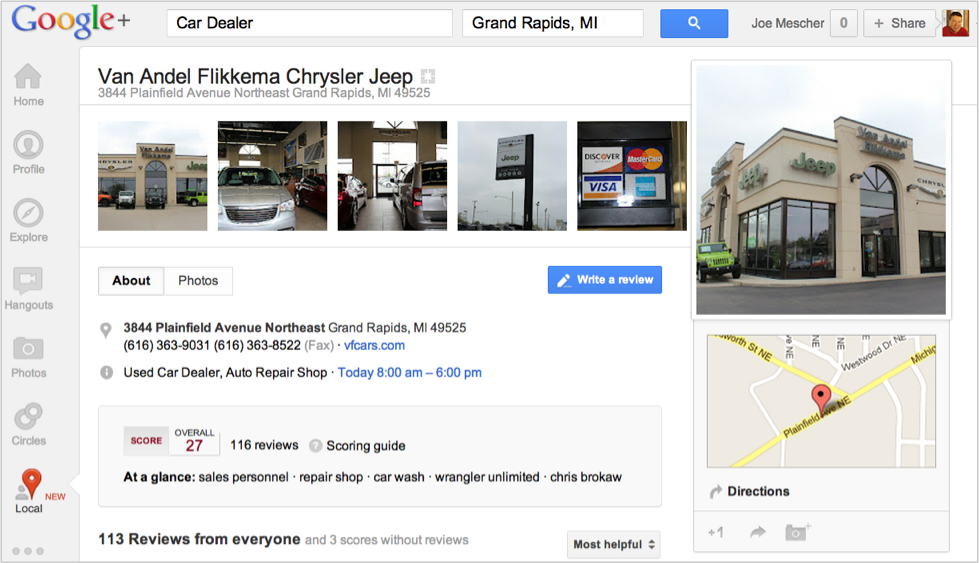 To be clear, only Google+ users can leave reviews for local businesses.  Let's dive into some sharing features of Google+ that makes it easier for customers to pass along experiences to friends, and how a dealer can benefit:

Notice that by clicking the "+Share" icon next to my Google+ profile photo that I can share a message (perhaps a testimonial) for your store to the most relevant people in my life via the selection of appropriate Circles.  Without committing to writing a public review, the "+Share" feature lets your customers tell their friends about you (In other words, advocate on your behalf).
However, if your customer feels inclined to write a review, this is what they will see: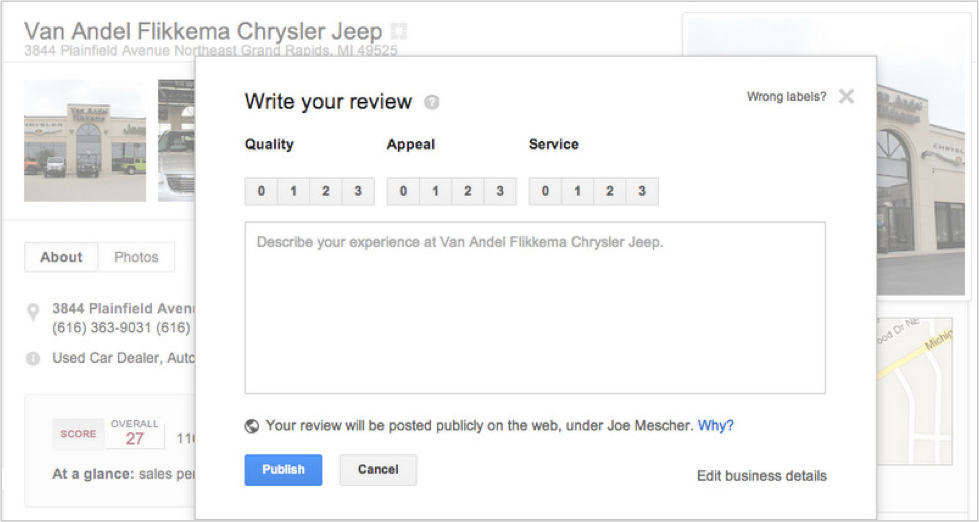 Instead of selecting from 1 to 5 stars, as was the case with Google Places, customers get to review your business based on three nuanced categories: Quality, Appeal and Service based on a range of 0 to 3.  The three scores are then averaged together and multiplied by 10, so that your company receives a rating where the highest possible score is 30.
*Google bought Zagat's last year and incorporated all of their reviews, which were previously hidden behind a pay wall, into Google+ Local.  Zagat's scoring methodology is based on multiple categories, which are now being rolled out across different business models.  
Read more
about Local scoring.
Manage This Page Replaces Verified Businesses
So you've committed to Google+ Local and want to connect in meaningful, social ways with your customers and community-at-large, right?  Better start (or continue) managing your page!  Navigate to the middle right hand side of the screen to hit the 'Manage this page' button.  You will be taken to the same dashboard as was used to update Google Places pages, but it's important to test this feature to ensure your profile is properly synced.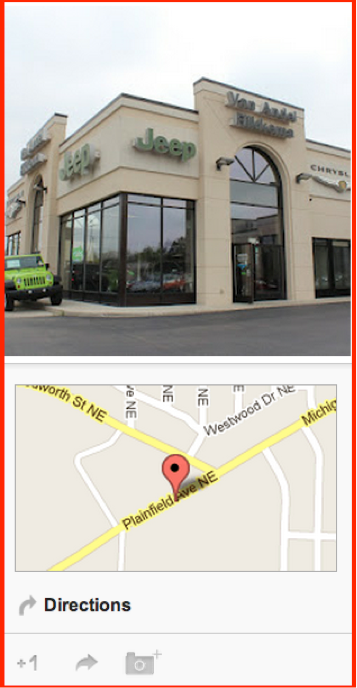 In addition to reviews and the "+Share" icon, Google+ users can get directions to your store, thanks to direct integration with Maps, by clicking the directions button under your profile picture and map image.
If you peek below 'directions', you will find three more interesting sharing options:
The +1 Button – Customers or fans can select this as a way of 'voting' for or 'liking' your business.  When a user hits the +1 Button, their preference can influence your position in search engine results for people who are in their Circles.
Share on Google+ – The curved arrow in between the +1 Button and the camera icon allows you to share this page to anyone in your Circles.
User Submitted Photos – Photo sharing empowers users and helps you bond with the community (This is a lesson that Facebook learned early on, rocketing them to mass-audience popularity).  By hitting the camera icon a fan can 'drag and drop' photos of your business onto the page.
Future-Proof Your Local Search Domination…
Before we dive into the video walk-through of Google+ Local, let's take a moment to consider the potential implications to your business of not participating:
Lower Organic Search Rank – Businesses are listed from high to low based on a number of factors, according to Google, that include number and quality of reviews.  The reality of search in 2012 and beyond is that your reputation, based on community reviews, will factor into your placement when a customer searches for cars and services/parts.
On-The-Lot Defections – According to new research featured on MediaPost, 53% of smartphone users said they had stopped an in-store purchase as a result of using their phone.  Think about what customers see when they're cruising the vehicle isles at your business, searching all car buying options in their market from the palm of their hand.
Please take a moment to see how Google+ Local can be used to connect meaningfully with people in your local community by watching and sharing the video below:
Joe Mescher is the Digital Marketing Evangelist for Dealer.com.  Follow him on Google+