How do shoppers reach a buying decision in today's socially connected digital landscape?
More important, how much more profitable would your business be if you could be first to market reaching these potential customers?
Before you invest time, money and energy attending (or following) the upcoming NADA convention in Las Vegas, let's arm ourselves with a better understanding of how social purchases occur (and the specific ways you can frame the buying conversation before a competitor does).
What a Sinus Headache Can Teach You About Shopping Intent

"Wait a minute, you're saying I should chew some gum to help relieve my sinus headaches," I asked the nurse practitioner at my physicians office. "That's it," I thought to myself. "Tonight I'm going to hop on the computer and find a new doctor who doesn't treat me like a ten year old."
7:58 pm on Monday night I was ready to deep dive into the search for a new doctor. Instead of Googling 'Best Doctor Burlington, VT' I posted the following message on my Facebook timeline: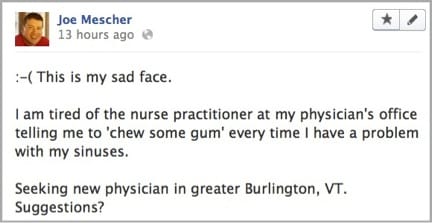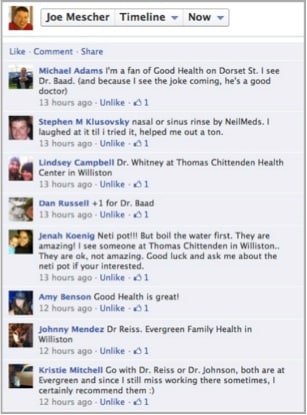 Within 45 minutes I had collected eight comments. Five of the comments included specific recommendations for doctors, two of them described home remedies, and one was a joke from my friend Dan.
It's important to understand that the reason I went to Facebook first is because paid and organic search results won't describe the experiences people I trust have had with my potential new doctor. I trust personal recommendations. They let me know what to expect.
Much like buying a car, choosing a new doctor isn't something an educated shopper takes lightly.
Takeaway: Social networks are the first place an increasing number of shoppers visit when making a buying decision. Friends help narrow the list of purchase providers that will be considered, and you need to figure out how to get onto that list.
Action Step: Make sure you get on your customers' "social shortlist." How? First, you need a simple way to monitor conversations taking place in your community. This can be as simple as employing someone to scour the timelines and posts of your potential customers, but let's be realistic, that isn't terribly efficient. Monitoring tools make this process much easier and allow your staff to focus on starting conversations with the right people at the right time, using the right form of media on the right device.
A very basic example of this 'Real Time Conversation Catcher' can be seen by signing into your Twitter account, then visiting 'search.twitter.com', selecting 'advanced search' and entering a query for a term like 'car shopping.' The advanced search feature then lets you enter your city and select a radius to draw from.
Hit 'search' and you'll be served up with people who are searching for new cars in your community, starting with the most recent. Many tools available today let you automate processes like this, and catch more profitable conversations, across multiple social networks.
Advanced Tactic: To make the most of each social conversation relevant to your business, it helps to boost awareness and employ local advocates. Here's what I mean:
1). Sponsor Stories (social advertisements) on Facebook. The world's largest social network allows you the opportunity to share stories that in-market buyers and their friends can like. This boosts your visibility in users news feeds. Now consider the fact Facebook is transitioning these sponsored stories from the traditional 'ad space' on the right sidebar directly into users news feeds. This simple change represents huge growth potential for your brand.

2). Pursue social advocates to share authentic stories about your brand.I'm not just talking about a one shot video testimonial that gets posted to your website (although those are important). What I mean is a database of bloggers and socially connected folks who can be called upon from time to time to interject in conversations and promote your store.

3). Consider hiring a dedicated community manager.A dedicated manager can use the automated 'conversation catchers' discussed above to spot and respond to profitable discussions in a genuine manner.
Let me add that it's important to use your social profiles as a two-way communications tool instead of a 'push' advertising medium. According to a new study from Insight Strategy Group, 55% of those surveyed believe social networking sites are the best way to give a company feedback and that posting about a product or service on a social site can have a strong impact on a brand.
Joe Mescher is the Digital Marketing Evangelist for Dealer.com. He will be attending the 2012 NADA Convention and Expo, and is available to discuss your specific questions at the Dealer.com Booth 3301.

Other Related Articles
Building Your Dealership's Inner Circle
Does Social Really Matter in Automotive?
How to Avoid Social Media Overload