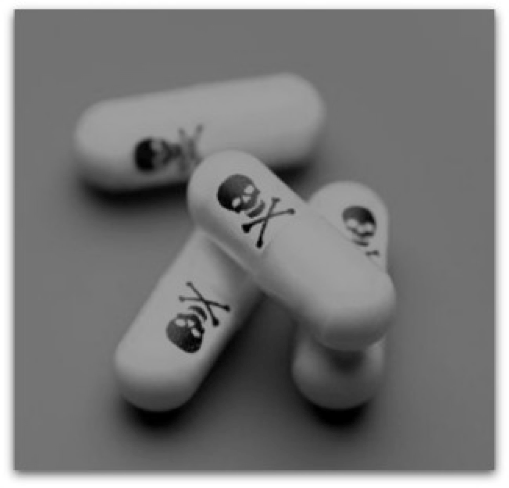 Yesterday 250 people were listening to automotive consultant Brian Pasch speak about drugs. We were discussing the revolution in online marketing. Specifically, how automotive customers rely on an average of 18 sources of information before walking into a car dealership.  This includes dealership websites, blogs, Facebook, Twitter, Google Places, and review sites like AutoTrader or Cars.com.
The availability of in-depth product details is what the focus of the 'Zero Moment of Truth' is about – how to influence that online decision-making moment customers have without spending more money on advertising (Instead, spending it more wisely).
But back to the drugs…
"Think of traditional advertising as a drug or a stimulus," Pasch said to the audience. We listened to Brian present us with tangible evidence of dealers spending $50,000 to $100,000 – in a single month – on traditional advertising, dominated by TV ad buys, to stimulate consumers to think about their store when buying a car.
All major brands are already doing this, letting people know about offers and new product through traditional media, Pasch argues. The missing link is the jump that we all automatically make in 2011 from traditional ad to online research. Look at what happens when a dealer searches their name, brand message and value proposition online:
The dealer is nowhere to be found in the first page of search and social results
Said dealer is noticeable – but in a bad way – meaning they have not responded to negative reviews being seen by up to 30,000 monthly visitors on outposts like Google Places
Of course there are dealers are leveraging the weight of their resources to respond to critics and fans, some to the extent that digital makes up the majority of their advertising investment.  But according to Google, in 2010 only about 15% of media ad budget money was spent online.  The logic behind asking automotive dealers to reallocate their investments towards the digital space is simple: Dealers who spend on stimulus, instead of online marketing and reputation management, are driving business directly to their competition.
Brian's presentation evolved from the indictment of drugs in the industry to the solutions we can share with motivated dealers who want to take control of their perception on the web.  This solution is to provide answers to questions the consumers want in multiple forms, such as video, forms and blogs, as well as participating on the networks our communities frequent.  A savvy dealer looks at their website they way potential customers do.  The dealer asks themselves if their digital property answers critical questions quickly and in as many ways as possible (Some shoppers prefer to watch videos; others want to look at reviews and check features).
In addition to managing our website, there are urgent tasks we need to address such as the investment we make in pay-per-click advertising, search engine optimization, mobile friendliness and our social presence on networks like Facebook.  When people begin shopping for a car and head to Google Places, is our dealership appearing in a listing with multiple favorable reviews that are responded to frequently, or do we lag behind local competitors?
Products like SEO are important parts of a digitally engaged dealer's playbook, but the way we can really get things done is to take a product agnostic approach by starting with the basics.  And the most basic element of success is building a partnership that helps dealers participate in those zero moments of truth taking place every day.
The rise of the consumer and their expanding voice on the Internet and social web provide a fantastic opportunity for quality conversation.  We thank Brian for making time to visit Dealer.com and create new ideas to share with the automotive community.
Please visit Dealer.com on Facebook to participate in the Zero Moment of Truth discussion.
Joe Mescher is a Digital Marketing Director at Dealer.com and publishes a blog providing actionable strategies for social businesses at SocialMediaCommando.com