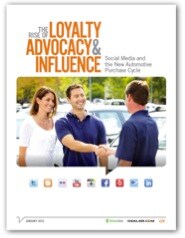 The rise of social media has broad and critical implications for automotive retailers. Consumers now have the ability to broadcast their opinions and recommendations to large personal networks via social media. To understand  this effect, DriverSide and Dealer.com partnered with GfK Automotive Research on an extensive study.
The study surveyed 2,000 consumers who had recently purchased a new vehicle or were planning on purchasing one within twelve months. The findings of this research – the most exhaustive of its kind to date – revealed five key takeaways.
1) The study proved that the vehicle purchase process relies heavily on peer social media engagement:
Approximately 1 out of every 4 buyers is using social media to communicate their purchase experience.
Among those who used social media in the new vehicle process, 58% of purchasers posted a comment or status update on Facebook about their new vehicle and 24% "liked" the brand.
34% posted a comment about the dealership they purchased from and 24% "liked" the dealership on Facebook. 33% tweeted about their new vehicle and 28% tweeted about their dealership.
2) A significant number of automotive consumers use social recommendations from others to make brand and purchase decisions. Moreover, the value of this "consumer-to-consumer" advocacy appears to be more impactful than traditional dealership marketing means.
According to the study, people are influenced more by the opinions of their family and friends than they are by other marketing messages. This shift means that the manufacturers' and dealerships' job of encouraging advocacy and positive influence is just getting started when consumers drive their new vehicle off the lot.
3) Dealers who invest in social media marketing, reputation management, and, more importantly, a solid customer experience at every level of the dealership, are best positioned to establish a base of loyal customers, advocates, and brand influencers. Once trust is established, consumers become more vocal advocates for your dealership, and are more likely to share their experience to their networks of friends.
4) Dealers need to interact with their customers at a critical moment – the moment right after purchase – to build strong, lasting relationships with brand loyalists.
5) Dealers must build value in social engagement by creating content that is compelling, consistent, and useful to consumers. Offers, coupons, and service content keep the consumer engaged and the experience positive, and will keep the dealership top-of-mind for both the customer and his network.
Taken together, these findings punctuate the need for social media education, awareness, engagement and strategy among car dealers. Social media has weaved its way through every step of the car buying process, from research to ownership, and has become an essential part of dealer marketing.
But the keys to success don't just live in the Internet department. Dealers must leverage every department at the dealership to improve the consumer experience, and use social media to showcase that experience, build a base of brand advocates, and together, influence buyer sentiment.
by Matt Murray, Director of Digital Marketing, Dealer.com