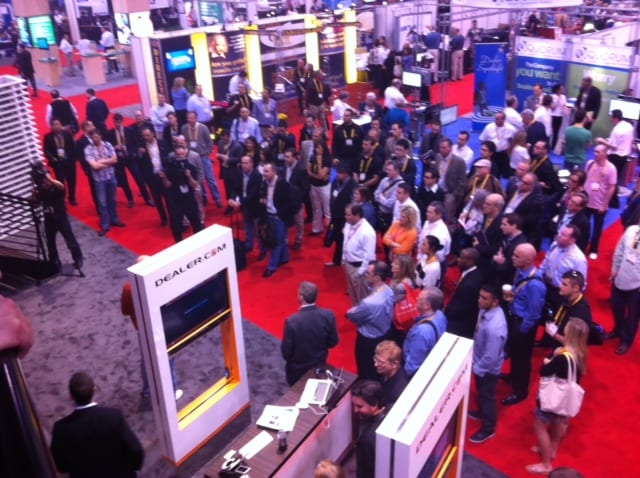 "When is your CRM coming to market?," hundreds of dealers asked us today at the 2012 NADA Conference and Expo in Las Vegas.  The answer is: this year! It's been exciting discussing the solution that will round out the Dealer.com platform, mostly because of the interesting questions it forces the industry to ask itself.
In addition to having actor Jonathan Goldsmith, the actor who plays 'The Most Interesting Man in the World' at booth 3301, we had Facebook stop by to talk about engagement.  Could it be true the average cost per significant exposure is less than $0.40 apiece? (Hint: YES).
What does this mean for our community?
Customers keep your brand top of mind when it's socially engaging and advertised on the networks they use most, like Facebook.  This opens up an opportunity that is precious and easily fumbled.
For example, an in-market shopper asks friends on the social web about reputable car dealers and takes notice of targeted, relevant and interactive ads.  Now it's search time (assuming you rank not just organically, but in local results like Google Places too).
Seems like a lot of info to digest!
Add the need for inventory to be effectively merchandised on-demand with photos and incentives, and dealers are expressing an overwhelming interest in managing this social-search-review loyalty loop.
That's the story of day two at NADA: Finding an effective, less time consuming way to reach customers and encourage them to share their affinity for their business with friends, neighbors and shoppers.
Thanks to all the dealers and partners like Facebook for visiting booth 3301 today.  And one more thing…
Let's talk.
Really, let's keep the conversation going about digital strategies and solutions more frequently this year.  We love talking about ways to help your dealership 'make a dent in the universe' (and backing it up with products and actions to follow through).
Call us.  Let's talk.  Let's make 2012 the year of no limits…
Joe
Mescher is the Digital Marketing Evangelist for Dealer.com.  He will be
attending the 2012 NADA Convention and Expo, and is available to
discuss your specific questions at the Dealer.com Booth 3301.