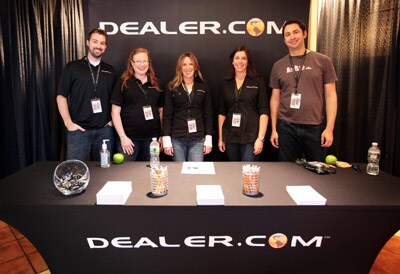 Dealer.com was there in full force today at the Vermont Tech Jam 2011, Vermont's largest career fair and tech expo. This year over 70 companies exhibited in an effort to foster relationships with potential employees.
Governor Shumlin kicked off the event this morning with the opening remarks. "The best jobs in the country are in Vermont," he said. "What we want is for you to be able to graduate from school, get the best education you can and to stay here in Vermont."
The Tech Jam offers the opportunity for job seekers to talk to companies about their business and get a feel for what kind of positions are open or will be open in the future. There are various workshops and panel discussions throughout the 2-day event including Women in Technology, How to Stand Out In the Hiring Process and a Lunch and Learn featuring Dealer.com and Google on Fostering Innovation in the Workplace.
The event was created to showcase the myriad of high tech job opportunities in Vermont and to encourage young people to build their careers in Vermont instead of moving out of state. It will continue Saturday from 10AM-3PM at the Borders Building on 29 Church Street in Burlington, and will also be streamed live at TechJamvt.com. Join us at the Dealer.com booth!
Follow the Twitter stream: #techjam
by Katrina VanTyne, Marketing Content Strategist