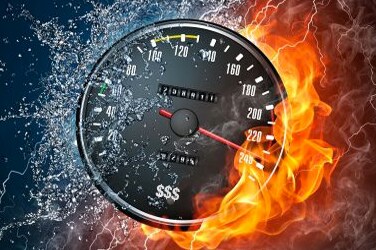 There is so much information being thrown at dealers everyday. "You have to do this!" or "you can't survive without that!" Take social media. In Las Vegas last month, we saw dozens of products, hundreds of experts, and endless strategies on this one topic alone.
But beneath all the clamor lies a central truth: the internet has turned traditional marketing on its ear, and brought digital marketing to the forefront of innovation.
Fortunately, while digital marketing has grown more complex, it's also more bankable than ever. Implementing a few basic best practices – each a fraction of the cost of traditional marketing like radio and TV ads – will virtually guarantee a major impact on sales and customer retention. As you shape your 2012 marketing budget, here are my top five recommendations:
1. Bite the bullet and invest in a consumer friendly mobile website. I know, people have been telling you this for a couple years now. They recommended this when mobile accounted for about 2% of total traffic for your dealership website. You balked. Then last year you were told that mobile usage grew to 6% of your total traffic. You were still skeptical.
Now is finally the time to act. Mobile traffic to dealer websites is soaring past 12% of total traffic, and smartphones and tablets are nearly outselling PCs. A mobile revolution is underway, and dealers need a sound mobile site to provide a seamless digital experience for their customers.
2. Double your paid search spend.  With the dearth of website providers out there, and your competition nipping at your heels, you must push harder to dominate Google Page One. Paid Search is time-tested and delivers local, in-market leads at a fraction of the cost of third party sources.  Many dealers will tell you that paid search delivers the lowest cost per lead of any other lead source.
If you currently don't invest in paid search, start. Nine of ten people begin their search for an automobile on the Internet, so the right mix of organic and paid listings will get you more eyeballs, clicks and leads.
3. Market your service department. Right now, open a new tab in your browser and search for service terms in your market area on Google. How many dealerships pop up organically or through paid search? The answer in most cases is zero.
Jiffy Lube and Midas are doing a killer job reaching out to customers who need service, so why shouldn't you be in the game? This is a golden opportunity for you to bring new customers to your dealership, and a great opportunity to build loyalty among your current owners.
Bid on service terms (see #2) and offer low hanging incentives to drive traffic into your service bays. If you're simultaneously executing on my next recommendation, then you'll be keeping your dealership top-of-mind the next time your customers are in-market for their next car purchase.
4. Finally execute a social media & reputation management plan. How could I not bring this up? In 2012, if you haven't started already, it's time to reach out to customers where they're choosing brands, socializing their wants and needs, and making purchasing decisions.
Stay in touch after the purchase too. Ask customers to share their dealership experience for other shoppers online. It's all part of taking care of your customers so your competition doesn't.
Don't trust this critical process to someone far-off in a remote office somewhere. Your reputation should be managed by an employee who knows your dealership, your customers, and your community. Consult with social media professionals or your digital marketing partner, but manage your reputation in house.
5. Be consistent. Technology is confusing, especially when there's so much else going on at the dealership. But if you're not using the digital marketing technology available to you, you're weakening your marketing impact.
Take the time to understand the opportunities available to you. Your website and digital marketing provider should be teaching you how to use the tools they provide. It is their job to help you become a better digital marketer for your dealership, but it's your job to set the wheels in motion. Select a partner who:
Trains you to meet your specific business needs, and tailors technology to your business
Prepares you and your dealership for future innovation
Asks you how they can improve their offering
Proactively consults with you and your staff
by Matt Murray, Director of Digital Marketing, Dealer.com