Website conversion is a key metric we use to gauge the success of our marketing and advertising efforts. Understanding conversion begins with understanding the factors that influence it at your dealership. Only when you understand how elements of your digital marketing strategy can raise or lower conversion rate, can you accurately measure its success.
Here are five factors that affect conversion rates.
1.  Volume: Traffic volume can make a huge difference in how you view conversion. A high conversion rate doesn't always mean more leads. Look at the example below: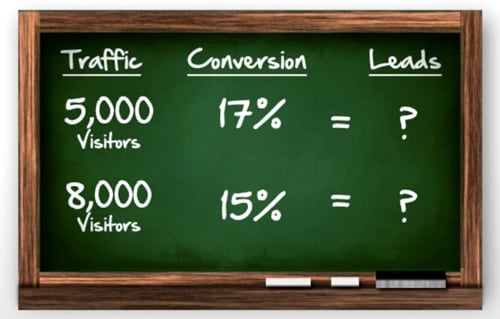 At first glance, you might prefer the 17% conversion until you actually do the math. In this case, the lower conversion rate delivers more leads to your dealership.
Takeaway: Your digital strategy must include tactics to drive more relevant traffic to your website. Evaluate and optimize your paid search campaigns, social media engagement, SEO and content distribution on your website.
2. Custom vs. Template Solution: Effective marketing helps us stand out from the crowd. But be sure you don't stand out so far that your visitors lose their way.
A custom website can work in some situations. However, most of the time custom is unproven and based on personal preferences not usability data. Templates incorporate proven techniques based off of years of testing consumer behavior, and often perform better.
Think of it this way, you wouldn't create a flashy vehicle details page for your dealership just because it looked cool. You would you rely on actual data to create a page you knew would generate leads.
Takeaway: Template is not a bad word. When building your site be sure to focus on performance metrics and how well the design achieves your goals. The science of web design and its impact on consumer behavior is evolving and constantly improving.
3. Location: It is important to understand where your customers are coming from locally and target them specifically. Your dealership's physical location will certainly affect conversion: a rural dealer will likely see low traffic volume but slightly higher conversion rates than an urban dealer.
Dealers that use SEO and Pay Per Click campaigns as branding tools beyond their local market might gain a broader reach and increase site traffic. But as you attract more customers from further away, this traffic will most likely have a lower conversion rate.
Takeaway: Consider increasing the reach of your paid search campaigns by expanding your target area. Your conversion rate may lower slightly because this is not your primary market but you'll likely drive more traffic to your site. Evaluate how these campaigns perform and adjust your strategy accordingly.
4. Content: What is your message? Two different messages will result in two different measurements. A high volume message will get high volume traffic but not necessarily high conversion rates. For example, if you are gearing your site to be the #1 resource for your brand loyalists as well as car shoppers you might increase your traffic volume but it's likely your conversion rate will go down. That's not a bad thing, especially if your goal is to increase traffic and brand recognition.
Takeaway: Test your messaging. Different customers respond to different messaging. Continue to monitor and optimize your campaigns to identify what works best. Evaluate and adjust accordingly.
5. Cash: How you use your ad budget will determine your overall conversion rate. If you have a smaller budget, your advertising might focus on your local market, and your conversion rate may be higher because you're only advertising where you know it's effective.
Though adding extra budget dollars can increase your market share, it may decrease conversion. This isn't a bad thing. Especially if your goal is to invest in getting more eyeballs on your inventory.
Takeaway: Identify your corporate strategy and align your digital marketing investment based on your dealership goals.
In Conclusion
Everything you do online affects conversion rate. Your dealership's Internet strategy contains many moving parts–some raise conversion and some lower conversion. Achieving consistency by understanding how the moving parts work together is the key.
Above all, do not measure your website's success by one metric. Determine instead, whether it's fulfilling the goals of your strategy.
by Katrina VanTyne, Marketing Content Strategist