I've never been a guy to ask for an autograph. The whole concept of a piece of paper with a hand written name on it is bizarre to me. However, growing up I always wanted to be a professional basketball player. Getting paid to play a game you love every day, traveling the globe, what a life! Unfortunately, I learned quickly that only the best, most athletic and arguably luckiest guys, get to play at the highest level…the NBA. Now, maybe your dealership is one of the lucky ones who have a serious enough game to make an NBA salary off front-end sales and if that's the case I have to ask…can I have your autograph? But for a large percentage of dealerships, we work with the tools we have. Tools like our Internet presence as well as our profit centers, specifically our fixed ops departments.
When it comes to fixed ops there are a lot of internal efforts a dealership can make. For example, up-selling when possible, introducing car buyers to the service staff before they leave the lot in their new vehicle, just to name a few. But consider this, 8 out of 10 service customers begin their search for service and parts online. That said I have to ask, what are you doing to ensure that your dealership's external fixed ops presence is a good one?
Below is a search result for a pretty typical service search query in Chicago, IL. Notice anything alarming here?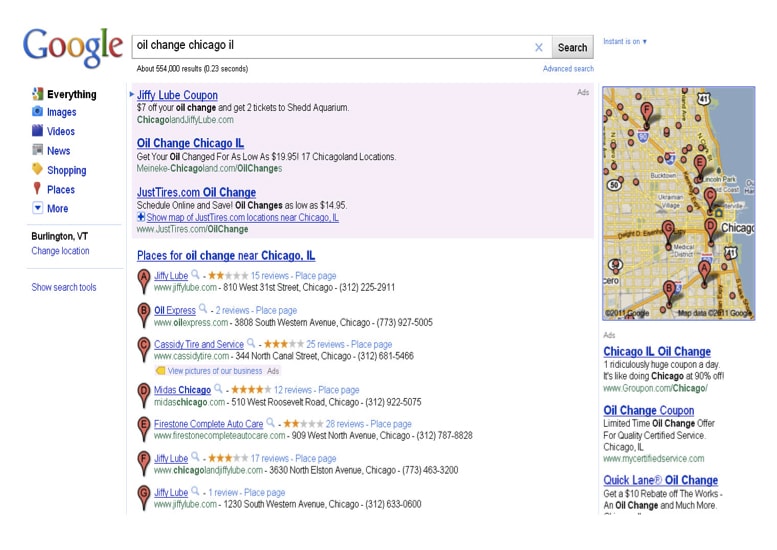 There are no local dealerships, just pure domination by light service centers. How do they do it? They know the research and are empathetic to how customers search for "The Big Four."  Oil change, Brakes, Batteries and Tires a.k.a. the four key words that make up 90% of all service and parts searches. You owe it to yourself, your dealership and most importantly, your bank account to have a gun in this fight.
3 steps to ensure a stronger online fixed ops presence. 
In a previous Dealer.com blog called 5 easy Steps to Enhance your Google Places Page, we mentioned that Google Places results are taking up more and more real estate on Google page one. Make sure you have registered your business. Google can't serve you up on the search engine results pages if you don't exist. Go to Getlisted.org to find out if your dealership is listed.
Create some content rich pages on your site that talk about your dealership services. Remember, search engines are in the business of relevancy, the more relevant your content is to "the big four" the better chance you have indexing on a search engine results page.
Add some video. Custom video can reinforce messaging and increase visitor engagement while at the same time "humanizing" your fixed ops department. Reinforced messaging using video speaks loud and clear to potential customers while at the same time increasing their time on your site.
The average midsize dealership should expect 80% of their total dealership revenue to come from fixed ops. Still, many dealers spend 80% of their time (and budget) focusing on variable ops which, if we do the math, is only contributing to 20% total revenue. In an industry where timing is everything, make sure you are using yours efficiently.
John Jones is Dealer.com's Product Training Evangelist