Twitter has been buzzing all morning about the first independent auto franchise — LaFontaine Buick GMC Cadillac in Highland Township, Mich. – to sign up for a Groupon deal. Here's how Advertising Age described the deal customers get if they choose to buy this specific Groupon:
Consumers spend $199 for a voucher worth $500 toward the purchase of a car, redeemable this year.
Between giving up $300 to consumers and $100 to Groupon, each sale will cost the dealership $400.
Unsure of what the demand will be, LaFontaine capped the deal at 150 vouchers, Mr. Milner said.
I can already hear the opposing sides lining up to debate this issue of whether Groupons are a good investment for the dealer. Let's consider the upside first.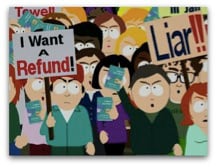 Spending $199 on a coupon is a commitment. Turning down the option to buy a car with their Groupon involves a two hundred dollar sacrifice – so the competing deal must be incredibly sweet to make the buyer walk away.
In other words, the deal is now yours to lose.
Second, think about the exposure and cache that come with being associated with a high flying tech company like Groupon. You have access to their entire email database of members for your specific day, in your local territory. Unlike many traditional marketing options, your team will gain access to opens, open rates and the number of visits to your dealership website that occur in the days following the offer.
Third, there's the carryover effect. I want every single one of the 150 Groupon buyers – who presumably buy a car – to star in a short video testimonial that I can use to market to new potential fans on Facebook, Twitter, Google+ and other relevant social networks (Including my website testimonial page). If I convert 20% of these buyers to write a positive review of my store and like my Facebook fan page, that amounts to 30 new online advocates (not counting the number of comments on friends fan pages and new likes/reviews that are generated as a result).
However, there could be a downside. What if your Groupons are purchased by existing customers? Well, is that so bad rewarding a loyal buyer with a little money off the top? These purchasers could turn around and feed you some positive word of mouth. On the other hand, it's always nice to acquire a new customer with new friends and family to sell to.
Does this dilute the brand? Are we setting up a nasty precedent once more dealers purchase Groupons, so that every customer feels entitled to $300 off before they even begin the deal making process?
Sure, we just don't know how it's going to shake out yet. Some businesses love Groupon, while other local merchants hate it. The key to running a successful campaign is setting clear expectations, marketing it effectively on the mobile/social/traditional web, and gaining as much (free) new content and reviews as possible from your buyers.
What are your thoughts on Groupon? Tell us in the comments section below, or by responding to @DealerDotCom on Twitter and Dealer.com on Facebook!
by Joe Mescher, Digital Marketing Director