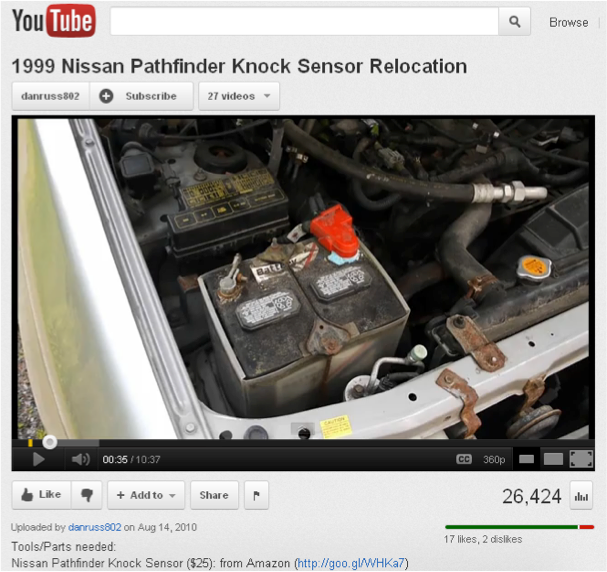 Search engine optimization (SEO) is an art and science that largely focuses on putting your content in front of users at or near the top of the search results. But what does it matter if your content isn't delivered in a relevant format to the searcher (video vs. blog post, for example)? In addition to posting updates that focus on sales, are you making efforts to start and maintain conversations that lead to comments, likes, shares and, ultimately, loyal followers?
Conversations matter in the post Web 2.0 world because they promote community building, and that's one of the main goals of the automotive dealership – taking care of (and listening to) customers.  Let's discuss my friend Dan Russell's brilliant video educating Nissan Pathfinder owners how to relocate their knock sensor.

37 Comments and Number One in Organic Search Results
This post isn't meant to advocate conversations to the exclusion of awareness. In order for a conversation to gain traction, lots of people need to see it. So take a moment to open your browser, visit Google.com and search for the term "Nissan Pathfinder Knock Sensor." Dan's video should rank number one organically, although geography and personal search customizations may affect your results. Now that we've shown how this video ranks, let's take it apart to understand why.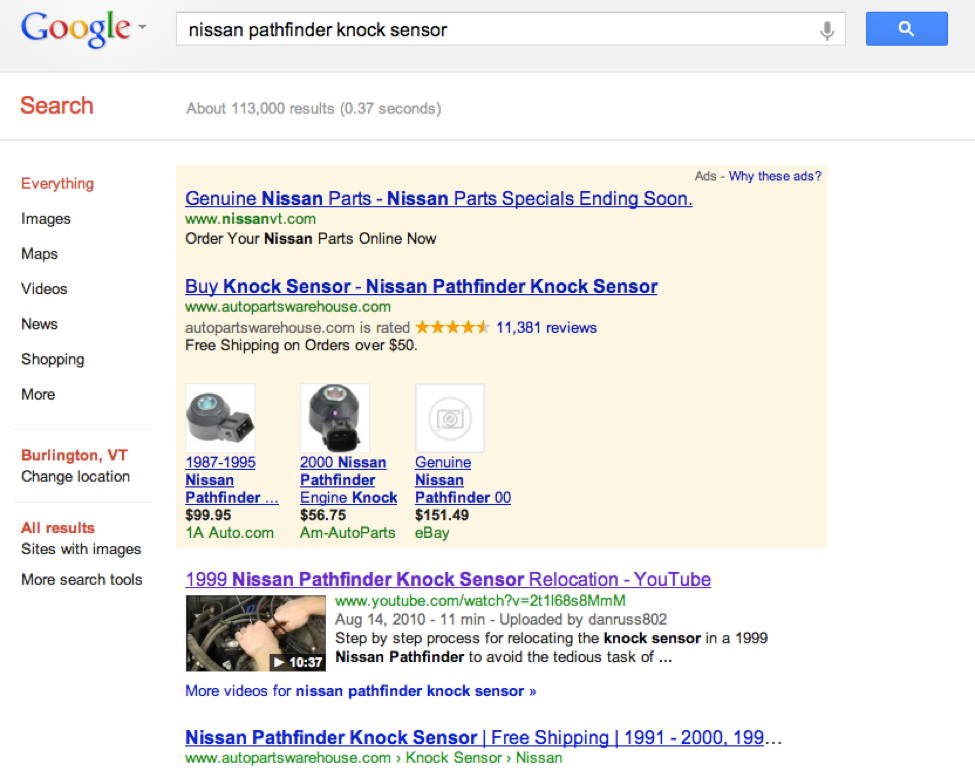 First, the video is authentic and helpful.
Dan doesn't scream at the viewer or push a product in the video at all. His sole concern is helping people who drive 1999 Nissan Pathfinders relocate the knock sensor should the need arise. When I first watched it I thought, "What the hell is a knock sensor," quickly followed by, "How do over 26,000 people want to know more about one for a specific model year vehicle?"
The lesson here is that even niche questions can drive large and passionate discussions. Read through the comments – all 37 of them, which is more than most blog posts receive in a lifetime – and you'll find two camps. Most rave about the effectiveness of the solution, but a few have issues with Dan's method.
Here's where the second SEO lesson comes into play.
Dan responds to those who share either praise or scorn with a measured, positive tone (And promptly, too). This sends a signal to the search engine that Dan is an engaged content provider, and users can see they'll receive further direction if needed.
In other words, the conversation is dynamic.
Dynamic conversations offer you an opportunity to keep reaching new members of the community and begin to turn them into loyal followers. This community building effort will pay off in the search engine results page (SERP) since Google appears to weight social factors much more heavily in the current digital landscape.
Finally, let's chat about SEO best practices and monetization. Dan is a good guy, but that doesn't mean he wouldn't appreciate the chance to earn a few bucks from his tutorial. So he made sure to use a straightforward, keyword rich title ("1999 Nissan Pathfinder Knock Sensor Relocation") to maximize exposure in Google searches.  The video is correctly categorized under 'How To & Style' and utilizes the most relevant tags, 'Nissan', 'Pathfinder', '1999', 'Knock Sensor', and the camera used in production, 'Panasonic GF-1'.
To pick up a few dollars, he shares a list in the beginning of the description outlining all of the parts needed using affiliate links. Now, I won't presume to tell a car dealer what videos to produce here. There are many different ways to succeed if you focus on building profitable relationships and having better conversations.
All you need to get started is someone willing to tackle the video production who will also respond to comments and distribute the link in the right places (Think YouTube, Facebook and Twitter).  In the meantime we'd like to know more about your approach to starting and growing conversations on the traditional, mobile, social and video web (Add a comment below to make your voice heard).
by Joe Mescher, Digital Marketing Evangelist for Dealer.com