Google+ has more likes than Facebook
 in terms of how users rank it, according to the American Customer Satisfaction Index.  Google's social layer, which includes location based search tool Google+ Local, tied Wikipedia for top social media site in the survey.
Why do customers approve so overwhelmingly of Google's search plus social mash-up?
Google+ has better, more functional and responsive mobile apps, for starters.  This translates into more 'friction free' searches that help customers find and share their experiences with local businesses (And it probably doesn't hurt that Google+ is currently devoid of traditional advertising, and has more ingrained privacy features).
So, how well is your business optimized for Google+ Local, and why should you care about investing the time to make sure it is?
Key Influencers Shape Search & Social Recommendations of Friends
Google+ Local works like a dynamic online phone book.
When users (i.e. potential customers) open the app or login via a laptop, they're introduced to recommendations from friends in their local community.  Whereas a traditional phone book leaves finding a business to patronize completely with you, Google+ Local helps guide your search.
Instead of investing advertising dollars to claim the most pronounced listing, however, Google+ Local requires sweat equity.  The more visually appealing your profile is, with more user interaction, the better your odds are of appearing as a recommended business: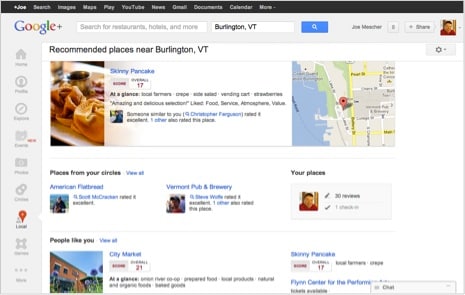 Notice the featured business listed under the 'Recommended places near Burlington, VT' heading?  That feature is a rotating carousel of companies that people in your Circles have rated and reviewed (Click the 'refresh' button once you're logged into Google+ to see the businesses featured by your community).
When a 'Key Influencer' – someone who is directly connected to a large number of people via their Circles – recommends your business, every one of the people in they are connected to have the chance to see your profile featured in their Local home screen.  Think of each recommendation and review from a Key Influencer as boosting your 'Social Street Credibility'.
Why You Should Care: The recommendations page is often your first (perhaps only) shot at convincing a shopper to choose you over their original business preference.  Conversely, if a shopper sees an enticing competitor that outperforms your listing, they have a chance of conquesting that individual whom you've invested time cultivating as a buyer.
How To Take Advantage:
 First, locate your Google+ Local profile by visiting
https://plus.google.com/local
and searching for your business by typing the company name into the search bar on the left, followed by your geographic location into the box on the right (If you've previously built a Google Places page then it has already been converted to a Google+ Local profile, however if you have not, please visit the
Google+ Local Learn More page
).
Now that you've found your profile or started the process of creating one, let's move on to specific optimization steps.
Without The Proper Pedigree, Your Puppy Won't Get a Second Look
The difference between a successful, highly recommended business on Google+ Local vs. a 'Ghost Town Profile' is often a lack of interesting and descriptive information (This includes photos, videos, and comments from the owner).  Here's an example of a non-descriptive profile that could be doing its owners a disservice: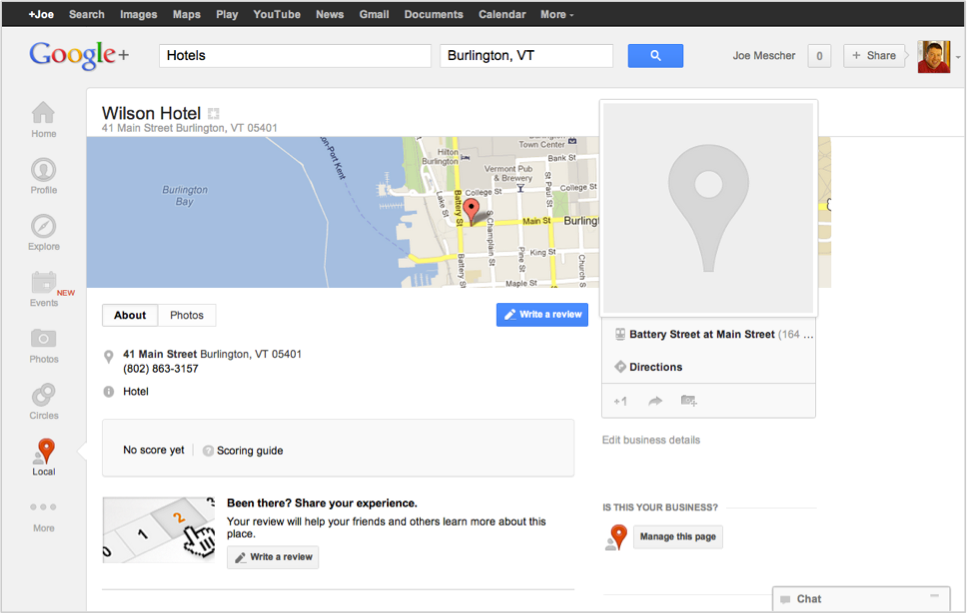 The profile for the Wilson Hotel has no profile image or featured photos (The map in the background of their listing is created by default).  Furthermore, the business listing lacks comments by the owner, there is no mention of hours or a website for more details, and zero reviews have been posted by customers.
As a potential buyer of their product, shoppers would likely click the back button very quickly when faced with a listing such as The Wilson Hotel because it fails to meet their basic interests or provide helpful information that lead to an introduction and purchase.
Now let's take a peek at an optimized profile and break down the pieces shoppers respond to: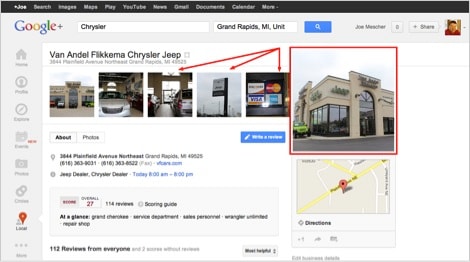 The person managing this profile invested time uploading custom photos of their store, plus a profile photo that captures their location in a flattering light.  You can do this one of two ways, either by hitting the 'Manage This Page' button on the lower right hand side of the page, or by clicking the 'Photos' tab that sits adjacent to the 'About' tab above your address, then clicking 'Upload Public Photos' (This button appears in blue, where the 'Write a Review' button usually resides).
Why You Should Care:  Anyone with a Google+ account can upload pictures to a local businesses profile.  The question is, would you prefer to manage the pictures that introduce you to new and existing customers, or are you content to let others manage your appearance for you?
How To Take Advantage:  Upload pictures featuring your location, product and customers that provide a compelling reason to buy – or at least learn more about your business.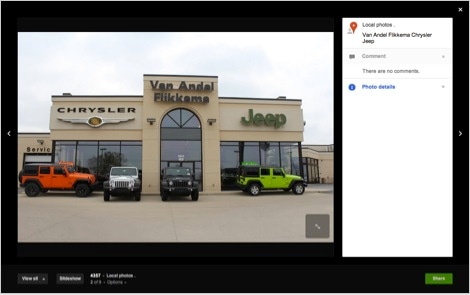 In addition to posting photos, you can add comments that mention Key Influencers by name.  This process is as simple as clicking the comment box and tagging the individual by typing the '@' symbol, followed by their name.  You can boost the life of these photos that are indexed by Google the more comments and shares each one receives.
But back to the basics…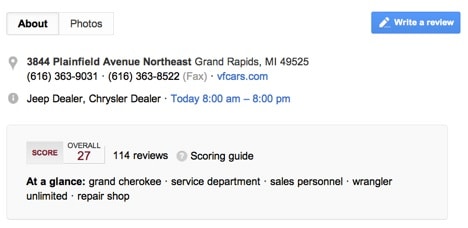 Make sure your listed address is correct, adding suite numbers if applicable, and double check phone numbers and web site URL's (Test the URL by clicking on it to make sure it brings up the right website).  Clicking the 'Manage This Page' button on the lower right hand side of your profile allows you to edit all of the information featured on your listing.
Comments to consider adding to your profile:
Makes and models that are serviced and sold by your company
Accreditations (Confidence Factors) such as AAA ratings and Better Business Bureau reports
Specialties, such as 15 minute oil changes or Interior and Exterior Car Detailing
Number of certified professionals working in your fixed ops department, along with their corresponding years of service
Our final optimization step is a simple one: Ask customers for a review, and follow up on these comments regularly.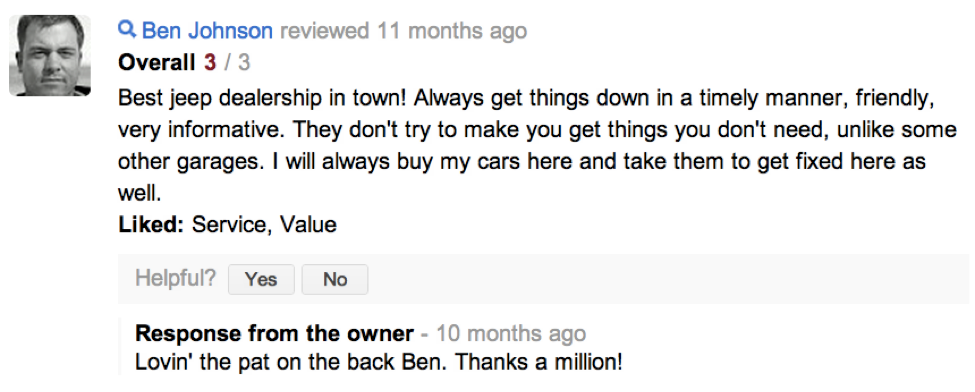 Reviews aren't intended to be static comments about your business; they should be shared among members of the local community.  Here are a few simple ways to increase reviews for your business on Google+ Local:
Include links to your profile in employee email signatures
Cross-reference your profile on social networks like Facebook and LinkedIn
Consider automated social technologies that email every service and sales customer
Add the review step to your new and used car sales process
Joe Mescher is the Digital Marketing Evangelist for Dealer.com.  He is also an adjunct Professor of Internet Marketing at Champlain College in Burlington, VT and can be reached at joe.mescher@dealer.com.