Who are the most important people in your social media community?
If you've read 'The Rise of Loyalty, Advocacy and Influence' study, your answer is probably 'key influencers'.  Key influencers are the members of your digital tribe who command large followings on social networks like Facebook and Twitter.  In addition to their follower counts, they are active participants whose opinions affect the purchasing patterns of friends, colleagues and acquaintances.
A benefit of recruiting key influencers is their ability to help you breakthrough to a group we'll describe as 'casual loyalists'.   The casual loyalist is a member of the 41% represented in the
chart to the left who have some affinity for your brand.  However they can be convinced to shop around and might consider jumping ship for another dealership/brand.
Dealers must battle for this 41%! Recruiting influential members from this segment can result in more profitable long-term relationships for your store.
You might be thinking, "That's great Joe, but how do I magically connect with these influencers who have access to casual loyalists?"  Let's discuss the specific strategies and tactics you can use today to turn car shoppers into social word of mouth advocates.
Listen, Link and Leverage
First, consider Facebook.  Many dealerships use either a simple listening tool or a more robust monitoring service to find out which users comment on their page or mention the store in updates.  While this is a great first step, you can make an even deeper impact by using some powerful new Facebook features.
Let's say the end state we want to achieve this week is having 10 influential 41%'ers sharing a message about our store in a meaningful way with their friends.  We can execute on our goals of finding new influencers and moving our message to their friends with a few simple clicks. Here's how: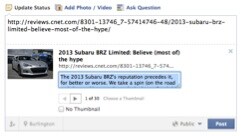 This morning I noticed a favorable article describing the new Subaru BRZ sports car published by the popular tech blog CNET.  I wanted to share it with some friends who work for Subaru, use a compelling title so they'd want to read the post, and provide relevant links to BRZ photos.
Notice the image to the left.  I clicked on the link title and edited it slightly, then did the same with the description, making it shorter and quoting the author's parting message about the car.
Check out the result: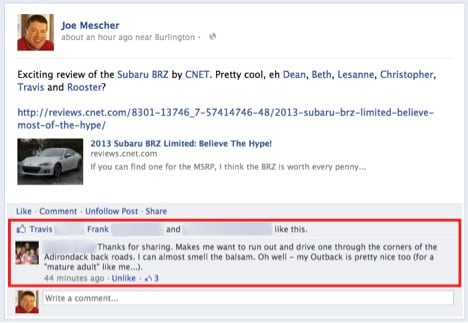 In addition to styling the article for my specific audience, I linked to each user (and to the Subaru BRZ Facebook page) within my post.  This alerts each user that they have been mentioned and encourages them to participate in the discussion.  My friend commented about the joys of driving a BRZ, and three people liked her message along with three more liking the overall conversation.  
You can use this strategy to include links to users in your posts.  
To be clear, a page can only link to other pages and apps, not individual users.  However this is easily mitigated by having you or an employee of the store use their own Facebook profile to mention the intended users in the comments section using the following method:
Enter the '@' symbol in the comment field, and then start typing the name of the friend you want to reach.  If they are friends with you, their name will appear in a drop down list and you can select the correct user (Hint: You can delete their last name to make it appear more conversational).
Let's tie all of these steps together.  Identify the influencers you want to reach, and then find out who in your circle are friends with these users.  Next, include a link to a relevant page and edit the title and description to entice people to read.
Finally, use the '@' function to notify Facebook users they have been tagged, or link to people who have the intended 'target' influencers in their network (Boosting the likelihood your story will be featured in their News Feed).
Search for Car Shoppers in Real Time
Facebook limits brands in terms of directly connecting with users, but not Twitter.  The microblog allows you to listen in on conversations related to specific terms the moment they appear in users streams.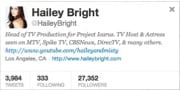 This is valuable for terms like 'car opinion' and 'car shopping', especially in larger metros where lots of people are asking their friends about which car to buy (Or simply declaring their intention to go car shopping).  
Check out a real life example I found from a popular Twitter personality in California named Hailey Bright who has over 27,000 followers:

Hailey received numerous responses from other local Twitter users.  One in particular had over 6,000 followers, and he used the '@HaileyBright' reply in his message back.  That means Hailey's message seeking car-shopping advice was delivered to over 33,000 people.  Think her purchasing decision is going to get noticed?
Unfortunately, not a single car dealership reached out to this key influencer.
Here's an example of what a dealer could have replied to Hailey with: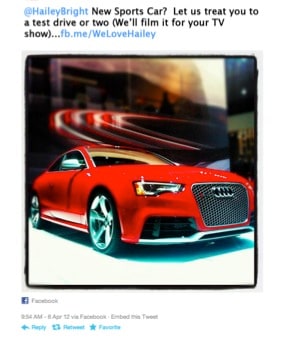 In this case the dealer uses what is called an '@' reply (@HaileyBright) to ensure Hailey sees she has been mentioned.  Further, there is a direct incentive for Hailey to message us back publicly – see, we're thinking with the end state in mind.  
This dealer also uses Twitter's photo sharing prowess to highlight a new model that is very compelling and shareable.  Finally, a link to their Facebook page is included to allow maximum interaction with the brand.
This whole experience, from searching for 'car opinion' within 100 miles of Los Angeles, to finding Hailey's post, took one minute.  Creating the mock-up response featured in the picture to the left took about three minutes.  Surely you can make time in your busy day to identify key influencers and create a compelling message that starts a conversation.
Joe Mescher is the Digital Marketing Evangelist for Dealer.com.
Joe will expanding on these best practices and introduce other strategies for refining dealership social strategy at the PCG Automotive Bootcamp on May 17th. If your dealership uses Dealer.com tools, ask your DA about how to receive $200 off event registration!