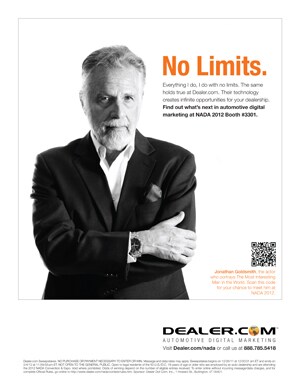 It's an exciting time for our industry. Sales projections are up, we're fresh off one of the most exciting Detroit auto shows in years, and NADA 2012 is just around the corner. On the technology side, dealers can look forward to more marketing resources than ever, with significant innovations from Dealer.com planned throughout the coming year.
That combination — dealer empowerment, optimism, and technical innovation — defines our 2012 strategy. We're calling it the year of NO LIMITS: A time to think big, explore new possibilities in dealer marketing, and recommit to our belief in the power of technology to elevate our industry.
It will also be a year of unprecedented social engagement, so we made it easy to get involved – both online and in person. For starters, we launched the Year of NO LIMITS with Jonathan Goldsmith, the actor who portrays "The Most Interesting Man in the World," and anyone who will be at NADA 2012 can enter for the chance to have their photo taken with him. If you're heading to NADA 2012, click here to enter to win.
Plus, throughout the year, we'll promote real dealers who truly embody the NO LIMITS spirit. Chosen from across the industry, these men and women have seized technology to take their businesses to a new level and aren't afraid to express their passion for the digital products they love. Do you know what the best part is about showcasing real dealers, and real success stories? Anyone can participate — either by sharing their personal NO LIMITS moments, or telling us in person at our NO LIMITS photo booth at this year's NADA convention.
However you choose to join the conversation, whether entering Jonathan Goldsmith photo contest, taking part in our NO LIMITS campaign, or just looking for more information on what's around the corner in digital, we'd love to hear from you. It's going to be a great year. Let's enjoy it together.
by your friends at Dealer.com