Let's see if you can guess who I'm describing:
Generally bright. Juggles a lot of complex information. Is increasingly tech savvy and spends most of their time at the computer. Doesn't have a lot of free time or patience for hassles. Is a relentless multitasker.  Likes to be prepared and remain informed. Longs for simplicity and automation. Demands respect, appreciates consistency. Reacts negatively when taken advantage of.
So, who is it? Your Internet Manager? Your Customer?  The reality is that it's both.
Like your Internet Manager, consumers are busy people who demand a certain experience when they visit your website. How you invest your marketing dollars can either help or hinder the customer experience you think you're providing. By streamlining your digital marketing efforts, you can bring consistency to the customer experience and a healthier work-life balance for your ISM. Let's break it down:
The Consumer
Consumers demand a lot from your marketing mix before they become your customers: an intuitive website that is consistent with the brand image and an integrated mobile site that does the same. They want the most relevant inventory and options delivered in the shortest period of time. They also expect offers and incentives tied to that inventory, rich media, and of course, the right price. Your customer wants to get in, get the information he or she wants, and get out with minimal impediments from incompatible technology, or pop-ups, or hassles, or wait times, or redirects.
From a technology standpoint, it can be challenging to bolt together Vendor A's website with Vendor B's mobile site and Vendor C's video tool and so on and still provide a consistent experience. Dealers who juggle multiple vendors risk taking their eye off the customer experience in favor of managing vendors. Consolidating your digital marketing tools into one or two vendors will alleviate your distractions and keep you more focused on the sale.
The Internet Manager
Some experts joke that any digitally-savvy dealer could remove the sign out in front of their store and never see a dip in sales. Since the Internet is where 90 percent of vehicle shoppers begin their search, and because the Internet delivers the most eyeballs to your inventory, your website and your ISM have become central to the survival of your dealership.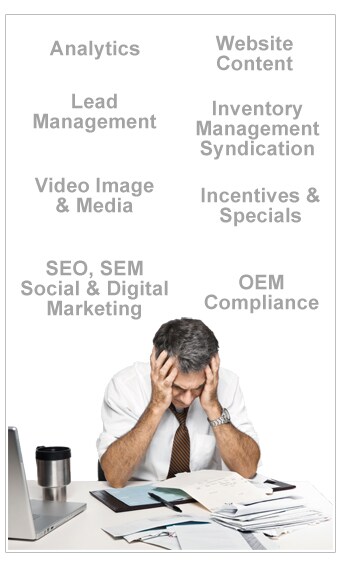 So how does an integrated digital marketing solution benefit your ISM? Take Mondays for example. Your ISM comes to work on a Monday and wants to add a timely manufacturer incentive. So he calls Vendor A. Meanwhile, something has stopped working on Vendor B's mobile site, and the incentive is not showing up, so your ISM calls Vendor B, but that rep is out of the office until Friday. For some reason, your videos aren't playing on some of your vehicle details pages and your GM wants to know why. So, your ISM calls Vendor C, but it's lunchtime and he has to leave a message. Next, your sales manager comes in to say that there's a typo in your incentive online and the dealership now has to honor it. The ISM has spent Monday morning managing vendors and problems instead of serving customers and managing opportunities.
In this example, the ISM could have benefited from having one or two vendors. The hassles of managing multiple platforms take the ISM away from generating leads, optimizing the website, and serving customers. Here are other ways a dealership benefits from an integrated solution:
True Measurement: Tools that work side-by-side can be measured for their effectiveness, empowering the dealership to make nimble investment decisions.
Easy Management of all Those Moving Parts: How many people should you need to call if you have a question, a creative idea, or if something isn't working? The fewer the better.
Cost Savings: Integrated platform providers are inherently less expensive than paying for premium products from several different vendors. Think of Costco. The retail giant offers high quality bundled items for a lower price.
More Control: Ability to react to results and shift strategy.
Fewer Bugs: Integration means there will be few square-peg-in-circle-hole scenarios, and less chance for incompatibilities and unforeseen conflicts.
DIY: ISMs who spend less time futzing with problems can spend more time engaging customers, building specials, adding pages, and delivering on a dealership's business goals.
The Customer Experience: Your ability to bring all of the pieces together in an efficient, streamlined manner will provide a seamless, uninterrupted customer experience.
Investing in an integrated digital marketing solution will deliver a better customer experience, and will probably please your ISM, too.
Matt Murray is the Director of Digital Marketing for Dealer.com
For more information on integrated digital marketing solutions for your dealership, or to schedule a demo, please contact Tim Lantz by phone at 888.891.7478 or via email at tim.lantz@dealer.com.