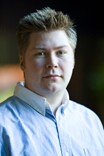 With so many online options for your client base, and an ever-changing social eco-system, sometimes it's just a challenge to find where everyone is "hanging out."
Take that step further and you'll find that the way you interact with your social sphere differs from place to place.
I suppose it's no different than real world interaction; just a "nerdier "version of it. I know I alter my level of formality and the subjects I discuss when I'm with my family, hanging out with friends, when I'm at work, and different yet when I'm around my neighbors. All those groups of people are important to me, but I communicate with them distinctly different.
The online social sphere adds another layer of complexity that interpersonal does not. That complexity is all around the differing types of communication that are supported by each channel. I'm not a super big fan of many individual logins, widely differing capabilities, and keeping track of who lives where. It would be nice if that were simpler.
Anyone that knows me, knows I'm a software developer. I'd say almost exclusively, developers are weirdly lazy. I say "weirdly" because on one side, we don't want to do any recurring work. On the other side, we'll spend enormous amounts of time and energy to avoid that repetitive work. Software companies (like Dealer.com) know how to exploit that personality defect in a way that can benefit everyone.
A few months ago, we realized we had an internal need to do messaging on 6-8 different social channels. The assignment came into our development team and what do you know…fast forward a few months and we end up with some elaborate tool to do that repetitive annoying job.
Maybe I should have taken a different approach in introducing our new project, Social Relationship Manager, but there it is. If you're wondering, yes, we do eat our own dog food.
We extended that idea of a single source to manage your social channels into a single source to gather a dealerships reputation and ratings, with Dealer Ratings and Reputation Monitor. It's really just an extension of the fundamental concept of one login.
We wanted to simplify the multitude of places that you have to go to in order to manage reviews, the hundreds of possible blog posts where people may mention you, Twitter "tweets", Facebook posts, news articles, etc., etc., etc., and then, when you see something you need to address, make it as simple as possible to respond.
We put a lot of thought into the SocialRelationship Manager. I hope you all get a chance to see it and those who like it take every advantage of what it does well … "social de-complexification" ("de-complexification" is not a real word).
By Eric Mayhew, Director of Advertising Product Development