Just as Yellow Page publishers are facing massive declines in deliveries of their phone books, Google Places is soaring to new heights as the go-to local resource for online shoppers. Places is a free tool for business owners with a physical address to list their companies and appear in local search results.
In the hyper-competitive world of automotive retailing, owning a well optimized Places page can mean thousands of additional brand views each month.
But just what in the heck makes a "perfect" Google Places page?
Cover the 'Boring' Stuff First…
Before you write a flashy description of your business or invest time photoshopping pictures to display, you need to get the basics done right. This means entering your business name as it appears on your business cards into the heading – and don't try to sneak in any marketing slogans here, because Google expressly forbids it!
Here's an example of a finely tuned Places listing…details after the jump: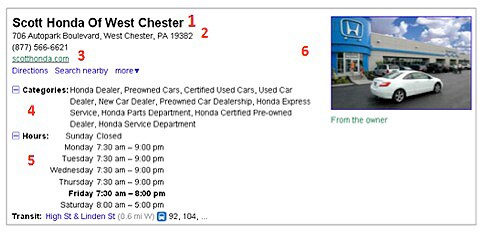 Make sure your business name is correct – often times Google Places pages have incorrect titles.
Is your address correct? Make sure to update your page with the correct address and phone number (tracking numbers are ok so long as they are not also used in PPC campaigns – you want to keep organic results separate).
This may seem obvious, but please test your website link by clicking on it to guarantee your Places page is delivering visitors to the correct location.
 Categories are critical. Honda dealers want to include 'Honda Dealer' in their category details, but 'Used Car Dealer' and 'Honda Service Department' are equally important in representing all of your profit centers.
Don't assume people know when you're open, and update your hours of operation as soon as they change.

RED ALERT

! The profile picture is one of the most underutilized elements of Google Places pages – but it is one of the key factors in determining the success of your profile. Make sure your picture is crisp and draws attention to the message you want customers to take away. For example, if I have 50 Honda Pilots on my lot that I'd like to merchandize, I'll add a profile picture that features a Pilot and text in the lower third of the image with a message like: "$500 Off Your New Honda Pilot" (extra credit for coming up with a more compelling headline).
"Hold on a second, Mescher," I can hear some of you saying, "You didn't answer an even more basic question – How many Places pages am I allowed to have in the first place? I have three dealerships, after all." Great question! In keeping with Google Places guidelines, you should only have one page per physical location. So if you own a Honda, Kia and Ford dealership, each with its own physical address, then it's totally acceptable to manage three separate Places pages. If your stores all reside on the same lot with one address, just hold onto one page.
Read Part 2 of What Makes a "Perfect" Google Place Page where I discuss how to get your customers involved.
Joe Mescher is the Digital Marketing Evangelist for Dealer.com.