In the first part of What Makes a "Perfect" Google Places Page we discussed how to create a new Places page. Now I want to discuss how to further enhance your listing.
Let Customers Advocate on Your Behalf!
What kind of story are you telling potential buyers with your photos and videos? Are you screaming at people to come into your store, or perhaps showing off new facilities? There's a better way to connect with people, and it involves making your profile more authentic via candid pictures and videos of customers:
Zappos.com is the undisputed leader of customer service – and they back up their commitment by showcasing their fan base in prime pieces of real estate. Ever seen their Facebook profile picture? It's a 'Fan of the Week', a picture taken by one of their customers, which is just one more reason people love the brand, because they feel like people listen and are interested in their lives.

You can do this too!
Add photos to your listing that feature raving fans picking up their new cars. Feature service customers hugging your techs. Show off the sales team in company polo shirts working at a community event. The more compelling the better – remember, we're trying to tell a story about our culture right alongside the products we sell.
Next up is video. Google Places videos have to be added as YouTube links, so make sure you have a YouTube channel created for your store. I have started recommending that dealers forsake their beloved Flip video cameras (which are being discontinued by Cisco) in favor of the iPad2. The iPad 2 allows you to shoot a video, edit it with iMovie and upload to your website and YouTube via ControlCenter 7 in one shot.
In other words, you can capture a customer testimonial and have it live on your Places page before the customer who came to pick up their car leaves the dealership. Think of how powerful that is when you're trying to get this individual to write a review for you! Your customer can see themselves on your website, on the social web and your Places page that can be shared with friends and family – this is some fantastic earned media.

One final note on photos and videos – if you don't add them (see the "from the owner" tag underneath the photos in the picture above?) then you might have pictures added via other profiles you have on the web – think CitySearch and MerchantCircle. Don't let these sites control your brand message. Take five minutes and add photos and videos.

Details Complete the Picture for Busy Shoppers



The details section of Google Places offers the opportunity to brag about all of the amenities you provide customers. For example, I visited a dealership that has two full-time manicurists on staff so people waiting for their cars to be serviced can enjoy having their nails done.  Think that might convince someone to visit your service department? Better include it in the details section. This is a space for highlighting services like parts, certified vehicles, brake repair and oil changes.
While we're talking about service, please take notice of the 'service area' listed in Google Places. The default 20 miles probably isn't sufficient in covering your service area, so you will need to manually adjust this to the correct number (Perhaps 40 to 60 miles).
Make Them an Offer They Can't Refuse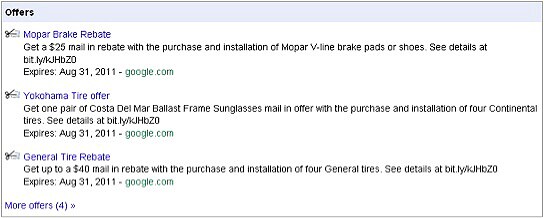 People love deals – just look at the wild success of Groupon and their projected multi-billion IPO.  So why not communicate these offers to new visitors who have opted to view your page? The 'offers' section is a space you should utilize for fixed ops deals and other promotions you know will resonate with potential buyers (deals like free state inspections, $500 above Kelly Blue Book for trade-ins, etc.).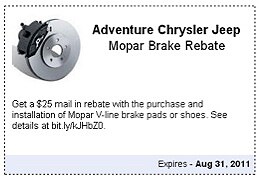 Extra credit goes to any dealer who adds a tracking link to each one of their offers. Tracking links like the one featured in the photo on the left should deliver readers to a custom built page on your website that highlights the profit center you are discussing, like tires or oil changes.
In fact, anyone who is still reading and taking notes deserves a hearty pat on the back. Did you ever think Google Places had so many hidden spots to share valuable content with future raving fans?
We're closing in on the home stretch, so hang in there for a few more minutes.
The Most Important Part of Places is…

REVIEWS! One of the key factors in determining which Places pages rank on Google and resonate positively with shoppers is simply having reviews. Anyone can talk about their dedication to customers or commitment to honest business practices, but few dealers have convinced significant numbers of current customers to preach this message for them.
In other words, a massive opportunity exists. If you can be first to market with positive reviews and measured responses to negative comments, your Places page has the chance to draw thousands of additional page views every month.
First, learn how Google recommends you respond to reviewers (you have to love that the first rule is 'Be Nice'). Most people who follow the herd think that negative reviews are terrible and should be avoided at all costs, or somehow be buried using the magic Google wand. I disagree. One negative review for every fifty or one hundred overall is a good thing, because it offers you a golden opportunity to show visitors how you respond to people who have an issue with your company. If I see that your GM is polite in their response to an overzealous reviewer and gives them direct access via a phone number and email address, two things happen:
The bomb is defused – You have eliminated any reason for the hothead to continue their rant, because you told them directly and in a courteous manner that the discussion should be taken offline to serve them best.
You earn respect from people who want to know how they will be treated in the event they disagree with you.
If you need some help thinking of ways to drive positive reviews, check out my previous post about turning your service department into a five star review factory. In addition to the service department, consider making that leap from Flip to iPad 2 and getting first to market with testimonials. In less time than it takes to walk someone through the service drive, you can capture a testimonial, edit it using iMovie and upload to multiple different networks, including YouTube.  We'll save that deep dive for another day.
Meanwhile, if you're interested in learning more about how to optimize your dealership Places page, just drop me a line via email. And check out out GetListed to see what your Places page looks like in 'report card' format.
Read Part 1 of What Makes a Perfect Google Places Page.
Joe Mescher is the Digital Marketing Evangelist for Dealer.com.