It's what Google says it is. And Facebook. And Twitter.
That's the message Wired.com editor in chief Chris Anderson shared with the audience at the SMX search conference in Toronto last week. What he means is that you can't really claim to have a solid brand identity that makes an impact with potential fans and customers until you begin managing the most critical web properties your customers use every day.
Let's discuss this sentiment in more detail and share some tips for building an effective online/social media presence.

Google SERP's, Social Media and the First Brand Impression
Where is the first place people find you online?
The answer is, most often, a Google search engine results page (SERP). But what does a page one search result look like to potential customers in your area? Take a look at the screenshot below to examine a dealer with a solid initial branding presence: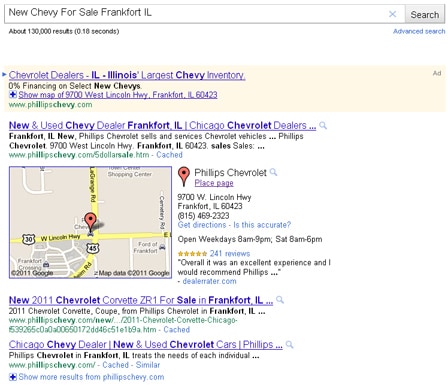 OK, first let's talk about the results page in general.  It's a collection of paid advertisements at the top of the page, organic listings and localized search results. The image to your right represents a query performed by a new car shopper looking for a Chevy dealer in Frankfort, Illinois.
Google Advertisements

– Dealers tell me they consider it a waste of time to bid on their brand name because they person can just click on their organic link.  This misses the point entirely.  Our real goal is to make a branding impression and move competing listings further down the page (which move us closer to snagging a lead).  If we don't plant our flag then someone else might.

'Instant' Makes Us Fear Commitment

– Google Instant allows potential customers to alter their search query while results are being displayed.  In other words, as I add, subtract or change the words in the search box, the listings in my search engine results page (SERP) are altered.  That means people spend more time looking at the top advertisements, organic listings and local listings.

Social Signals Influence Behavior

– We've been telling you that your digital brand consists of multiple websites and profiles (Dealer website, Facebook, Twitter, Yelp, Google Places, DealerRater).  When people see your Google Places page and it's got 4 reviews, 3 of which are negative, do you think that entices them to click on the link to your website?
The good news is that positive online reviews contribute to more exposure and the increased likelihood people will visit your website from the Google SERP. And guess what, not all negative reviews are bad for business!
Potential Customers Don't Demand an Antiseptic Brand Presence, But They Do Want To See You Communicate in a Genuine Manner
Sarah is a 24-year-old woman looking for a new car in the greater Chicagoland metro area. She comes across a Chevrolet dealer in Frankfort, IL with a lot of reviews in their Google Places page, and most of them are positive. Sarah is impressed with the brand to the point that she visits the dealers Places page, and things change.
Below all of the glowing reviews are two complaints about the store. This is the moment where Sarah usually would grab her mouse and click away as quickly as possible. Except in this case the dealer made time to respond to each unsatisfied customer thoughtfully and with respect.  The responses appear directly underneath each negative comment. "Hmm, most of the reviews are good, and the dealer went out of their way to respond. They sound nice," Sarah thinks, and decides to pick up the phone to call.
The point I'm driving at is that while you don't completely control your reputation in this new, socially conscious environment, you still have the power to shape positive opinion. So listen to what people have to say about your brand, talk about your business and the community that it is rooted in, and connect with this community so you can develop a mutually beneficial relationship over the long term.
by Joe Mescher, Digital Marketing Director