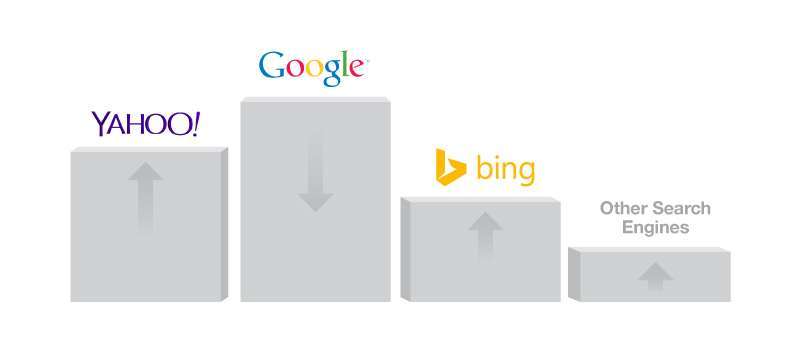 Internet browsers have competed fiercely for marketshare since the early days of Netscape versus Internet Explorer. Today, we commonly see Google Chrome, Opera, Firefox, Safari and (to a far lesser degree than in its 90s heyday) Internet Explorer slugging it out. While each browser has pros and cons, they all still rely heavily on agreements with search engine providers for funding.
Mozilla Firefox came on the scene back in 2002, and since 2004 it has had an exclusive agreement to use Google as its default search engine. Google has returned the favor via a share of advertising dollars generated by those using the browser. At the decade mark, Firefox decided to open itself up to new bids. What recently resulted was a shift not many of us saw coming.
Recent marketshare percentages show Chrome leading the pack at 60+ percent versus Firefox's 23.4 percent –  the other aforementioned browsers making up the difference.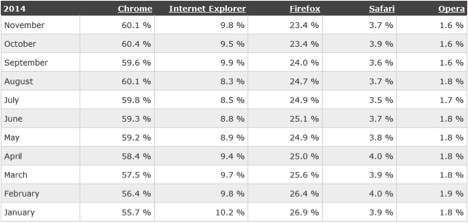 Statistics from w3cschools.com
With Google continuing to gain marketshare, Firefox playing defense and Yahoo aggressively striving to become the search giant it once was, the stage is set for major change. On November 19, it was announced Yahoo struck a deal with Firefox, making it the browser's default search engine as of December 1, 2014. If after taking Yahoo for a spin (possibly for the first time in a few years) a user prefers to stick with Google, it's easy enough to make the change back.
Now that several weeks have gone by since the change, auto dealers may be asking what this means for the automotive retail industry, and how these search engine deals affect SEO strategy going forward. For now, the differences don't appear to be huge. Despite only 10 percent marketshare, Yahoo, led by CEO Marissa Mayer, has set ambition goals and seems to be moving down a promising track. This makes Yahoo's evolution as relevant to the automotive retail industry as ever.
Data can already provide an early glimpse into potential organic search referral traffic trends in 2015. We measured several dealerships' traffic between November 1-15 and December 1-15 (the period during which Yahoo became Firefox's default search engine). The Google Analytics below display data for a site that receives 10,000+ visits a month. When we drill down to Acquisition > All Traffic then select yahoo /organic and browser type as the source, this is what we see:

A 76.47 percent increase in organic traffic via visitors using Firefox!
The next question is what about Google? How did it perform within the same browser?

Not surprisingly, Google traffic sent via Firefox is down 39.22 percent.
Are we seeing one of the first steps in Yahoo's return to relevance as a search provider?  Will this new partnership help it get to and retain a 15-20 percent marketshare in 2015? Only time will tell, but early results make this look like a smart move for both companies. Firefox, however, is keeping the details of the deal close to its chest.
Recently released data from StatCounter also shows Yahoo search share up significantly when comparing Firefox versions 33 with 34. Again, too early for a conclusion, but another data angle to consider.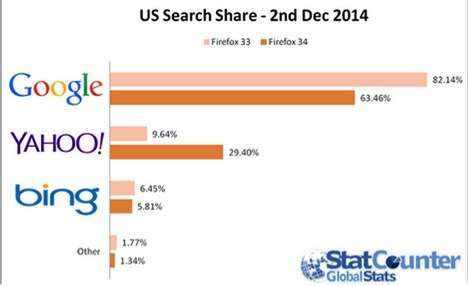 With potential shifts in search engine/browser dominance, it's important for your dealership to employ an SEO strategy that considers all three major search engines (Google, Yahoo, and Bing). Our team will continue to monitor our customers' organic Yahoo rankings (powered by Bing's algorithm) to ensure we're well aware of any changes which may result.
For Dealer.com customers with questions, please consult your Digital Advisor or Premium SEO Analyst.
Chris Nichols is a Senior SEO Strategist at Dealer.com