In early April 2015, we published an article entitled "The Truth About Google's Mobile Search Ranking" to provide context about and assuage concerns regarding the search engine's upcoming mobile-friendly algorithm update, flippantly referred to in the media as "Mobilegeddon." Now that the update has been live for over a month, let's examine what effects it has had on Dealer.com Websites by comparing mobile ranking performance before and after April 21, the date the mobile-friendly algorithm went live.
Before we look at any specific sites or keywords, remember that the mobile-friendly algorithm update affects webpages as opposed to entire domains. Google analyzes the mobile-friendliness of each page of your website and then applies any positive or negative ranking changes only to that particular page. If you have a page on your site that is not mobile-friendly, that doesn't mean your entire website will be penalized. In this sense, the update is quite different than others like Panda, Penguin, and Hummingbird released in recent years.
Testing Search Visibility Performance
To analyze the effects of the algorithm update on our network of dealer websites, we used a popular keyword rank tracking tool to monitor Google's mobile results for approximately 100 "projects," (Dealer.com dealership sites) and measure impact from the update. Specifically, we were tracking each site's homepage, new inventory listing page, and used inventory listing page. The software allows for localizing search engine results pages (SERPs), so projects were set up to search from dealership location zip codes. They were also configured to employ a mobile user agent, which replicates mobile search results. We tracked a sample of general automotive keywords relevant to each dealership.
The Results
In the screenshots below, take note of the numbers on the right side of each image. The first number (in blue) is the average rank of the keywords we are monitoring and the second number (in green) is the average increase in keyword rankings when comparing April 13, 2015, to May 20, 2015.



In each project, the average increase in keyword ranking saw positive results.
In the following screenshots, you'll see sample keywords and their current rank alongside recent increases. The blue numbers are the current rank and the green numbers are the increases in positions since April 13, 2015.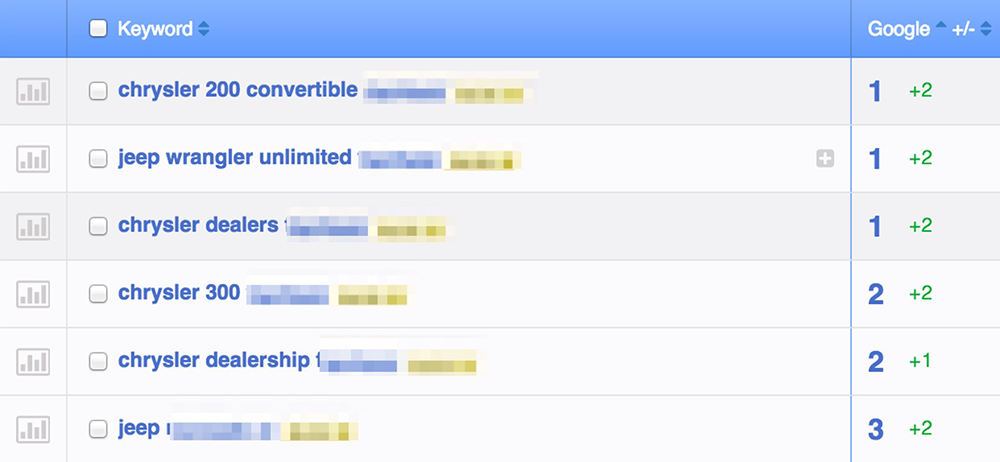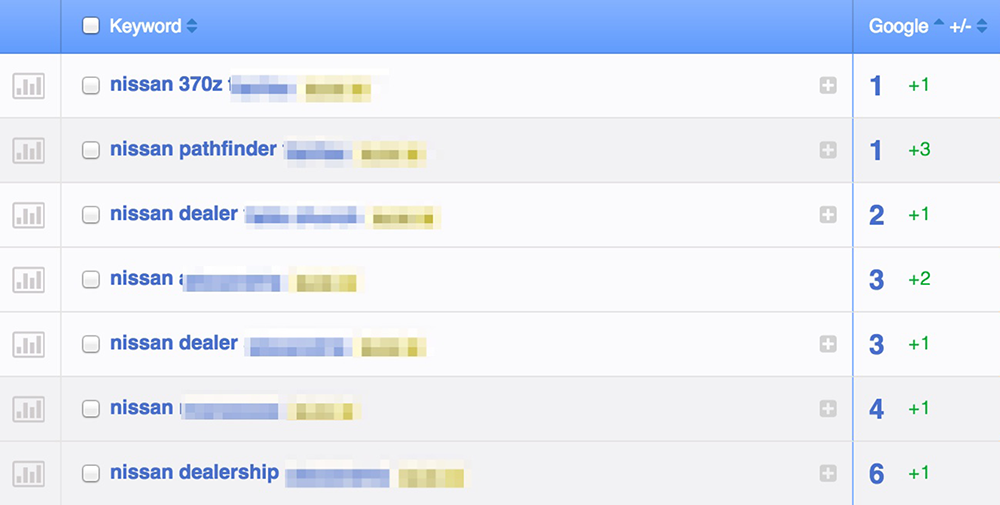 It All Adds up to Even Better Search Visibility
As you can see from these results, these dealership pages and the keywords that direct shoppers to them saw increases in mobile-specific rankings with Google after the mobile-friendly algorithm update. The strongest search visibility and the highest ranking across any device is a guiding tenet of Dealer.com Seamless Websites. The lack of evidence showing negative performance in these tests suggests that dealers using Dealer.com Websites not only weathered the algorithm storm, they came out of the other side with even better performance. This is the trend we are continuing to see across the Dealer.com network.
Have you noticed an increase in your site's rankings? Let us know what observations you've made in the comments below.
About the Author: Pete Bruhn is the Associate Product Manager, SEO at Dealer.com. He has nine years of experience in the SEO and search marketing industry, six while working at Dealer.com. He can be reached on Twitter at @petebruhn and on Google+ at google.com/+PeteBruhn.