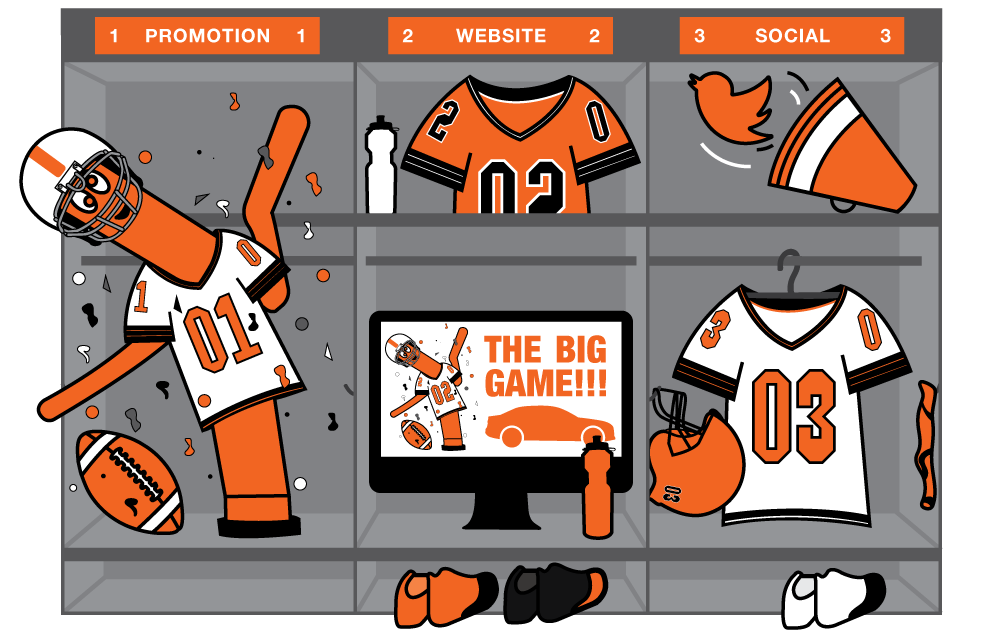 Do you watch The Big Game primarily for A) the competition, or B) the commercials? If you answered A, you're in the minority.
One 2014 study conducted by ad agency Venables Bell & Partners found that 78 percent of a surveyed group of 1,000 viewers tuned in to watch the ads rather than the actual football game. If those percentages were representative of all of the 111.5 million people that watched pro football's championship last year, then 86.9 million of them were watching for the commercials. To put that in perspective, 28 percent of the entire U.S. population watched the game for its ads last year.
Interesting stats, sure. But how does this information help your dealership? Look at it this way: The Big Game and advertising have a symbiotic relationship; that is, they both benefit from – and thrive with – each other's help. The game enjoys an unprecedented number of viewers from an audience that is already primed to zero in on the commercials. Advertisers use this widely televised event to address the nation – reach that is only topped by the M*A*S*H* series finale in 1983 (125 million viewers). Talked about at the office, in the classroom, and in the gym for days and weeks, and amplified by social media's easy shareability factor, advertisements aired during the game instantly become part of the social consciousness.
The Big Game (you know which one we're talking about here) is a universally recognized marketing theme, and one that is deeply linked to the automotive industry. Your advertising dollars are probably far better spent in other media channels than on the game's 30-second commercial break spots at an astronomical $4 million a pop. But that doesn't mean you can't lock in on the football championship theme.
Here's how your dealership, no matter the size and scope, can take advantage of the game:
1. Create a Big Game-related promotion – Further engage your customers that are primed and ready to watch the game with an incentive or special that connects to the event. Are you a Washington state dealership? If Seattle wins, offer complimentary lifetime oil changes to customers that buy cars the two weeks following the game. Have a dealership in New Hampshire? If New England wins, offer up a snow tire special for prospective car buyers through February until the Presidents' Day sales events. Pro football's championship game is a celebratory time, regardless of which team wins. Get your dealership in on the marketability of the day with a promotion.
2. Reinforce the promotion on your website­ – Once you've created your Big Game specials, get the word out. Create a homepage tile or banner tiles on vehicle details pages to message the campaign out on the pages shoppers see most. OEMs will spend millions in ad investment during this time, giving shoppers plenty of reason to arrive at your website looking to discover more about the new model they saw advertised during the game. Make sure your promos are up front and center.
3. Spread the word through social media – Your Big Game promotions can prompt more than just eyes on ads. They can ignite conversations around the game and, perhaps if you're lucky enough to be a dealership that carries OEM brands advertised during the event, the cars that were showcased. Social media also presents an opportunity to be at the ready to compose a timely tweet or post. It says to your digital community that your dealership is right there with your customers, in their living rooms, enjoying the event, too. Associate your dealership and the game with a lively, timely social strategy.
According to Advertising Age, six car manufacturers of the 27 advertisers will try to captivate and compel viewers during the game's commercial breaks. This means that 20 percent of the ads are for cars. Even if you don't sell those brands, cars will be on the brain this coming Sunday. Capture as much of that audience as you can with creative promos and an attentive and engaging social strategy. Just remember, don't use any trademarks owned by the NFL in your advertising content (e.g. "Super Bowl," "Super Sunday," etc.). The NFL is famous for fierce protection of its trademarks and copyrights. Please consult your attorney if you have any questions on trademark usage.
Chris Worden is an Operations Lead at Dealer.com