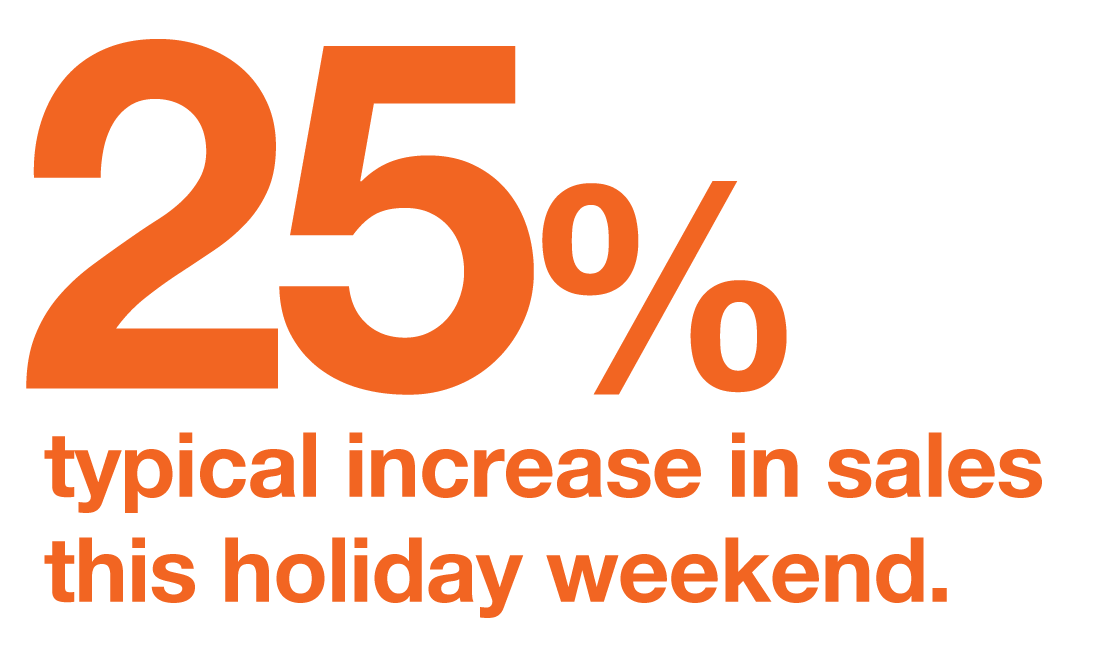 Presidents' Day weekend is almost here, and with it more shoppers to your showroom. Many (if not all) of them are sure to have researched online first, and are looking for a specific car on your lot. In other words, they're serious about finding a good deal and driving off the lot in a new or pre-owned vehicle.
According to the National Automobile Dealers Association (NADA), in fact, there's often a 25 percent lift in sales this holiday weekend when compared to a typical mid-month weekend. Maybe it's the start of warmer weather, or the attraction of new models and sales incentives at dealerships. Chances are, however, that Presidents' Day weekend is a boom because many people have a free day: no work, no family holiday dinners and plenty of time to check out cars, do their research online, and go for a test drive.
Ali Mendiola: "The more you can leverage online tools ahead of time to get things done, the more efficient the conversation will be in the showroom."
So – extra time to shop. Loaded inventories of shiny cars offered at sale prices. What's a sales staff to do in order to sell more cars? According to Ali Mendiola, senior manager of Digital Retailing Business Development at Dealertrack, sales teams and managers should focus on three things: Saving time, creating engagement, and ensuring compliance.
Save Time by Getting Pre-Work Done
Time is at its most valuable during the holiday weekend. It's busy, people don't like being at the showroom for longer than necessary, and salespeople don't want to get bogged down with one customer for hours. The key point to remember, then, is to get as much work done online as possible. "Engage with customers early in the shopping experience, and encourage them to use online tools," said Mendiola. "Send them a link directly to the credit app, and make it easy for them."
Mendiola points out that the same approach works for a customer who has a trade-in, and that "the more you can leverage online tools ahead of time to get things done, the more efficient the conversation will be in the showroom," she said. "And that's really important, especially during a busy time like Presidents' Day weekend."
For walk-ins, Mendiola suggests having tablets ready, or a computer, so that customers can fill out paperwork quickly and easily. This allows their information to be sent through operations, and to be used by finance and aftermarket. The important thing to note, however, is that for a customer who is in-store, make sure the link isn't associated with the dealership CRM system, and does not create duplicate leads.
Create Engagement
Typical shoppers have already done their research online, and, hopefully, have also started the purchase process by filling out a credit application and trade-in evaluation tool. As a result, keeping them focused and engaged through the showroom process is critical. "Keep your customers focused," said Mendiola. "When it's busy, it's easy to lose track. The next thing you know, they're showrooming on their mobile device. It's easier if your site is built on a Seamless and responsive platform and can be easily used via tablet or handheld. Using your website is a great way to keep them engaged and focused on the process and purchase."
Ensure Compliance
Busy times are ideal opportunities for identity thieves, so Mendiola warns against any temptation to cut corners, especially when it comes to identity verification and compliance steps. Make sure that your software guards against potential fraud, and that you follow the necessary steps to protect your dealership and your customers. Remember critical steps, such as:
Running a red flags and OFAC check to verify the customer's identity.
Managing risk-based pricing, adverse action and privacy notice fulfillment requirements.
Protecting customer information with secure digital storage of deal documents.
Monitoring and tracking compliance activity for every deal.
Advanced Tips
Thanks to record sales in January, Mendiola sees an opportunity for savvy marketers to take advantage by identifying needed and premium value pre-owned vehicles via the dealership CRM, and by sending an offer along with the trade-in tool. It makes for a nimble and fast-paced target marketing campaign. In addition, she points out that the BDC process could be adjusted to help with the expected busy times, simply by making sure customers are filling out as many steps as possible ahead of time, and by only giving a qualified BDC professional access to the back-end financing tool. That's not for everyone, she warns, but, if possible, by allowing the BDC to review credit and target affordability, it creates a happy customer who walks into the showroom already approved for funding and ready to enjoy the rest of the holiday in a new car.
Brian Chee is Content Development Manager at Dealertrack