AUTOMOTIVE RETAIL MADE SIMPLE
Flexible retailing experiences that drive automobile leads and dealership profits.
Drive more qualified, higher converting car sales leads by connecting with consumers as they begin the car buying process. With Accelerate My Deal, deals can start right from your Digital Storefront – and your Autotrader listings, or from Kelley Blue Book – as you give consumers the flexibility and convenience to choose their preferred path-to-purchase, to self-educate, and initiate the car buying process—all while building trust and transparency from the outset.
Create a custom demo to see how Dealer.com helps you deliver personalized, data-driven marketing that drives better customer experiences and better revenue.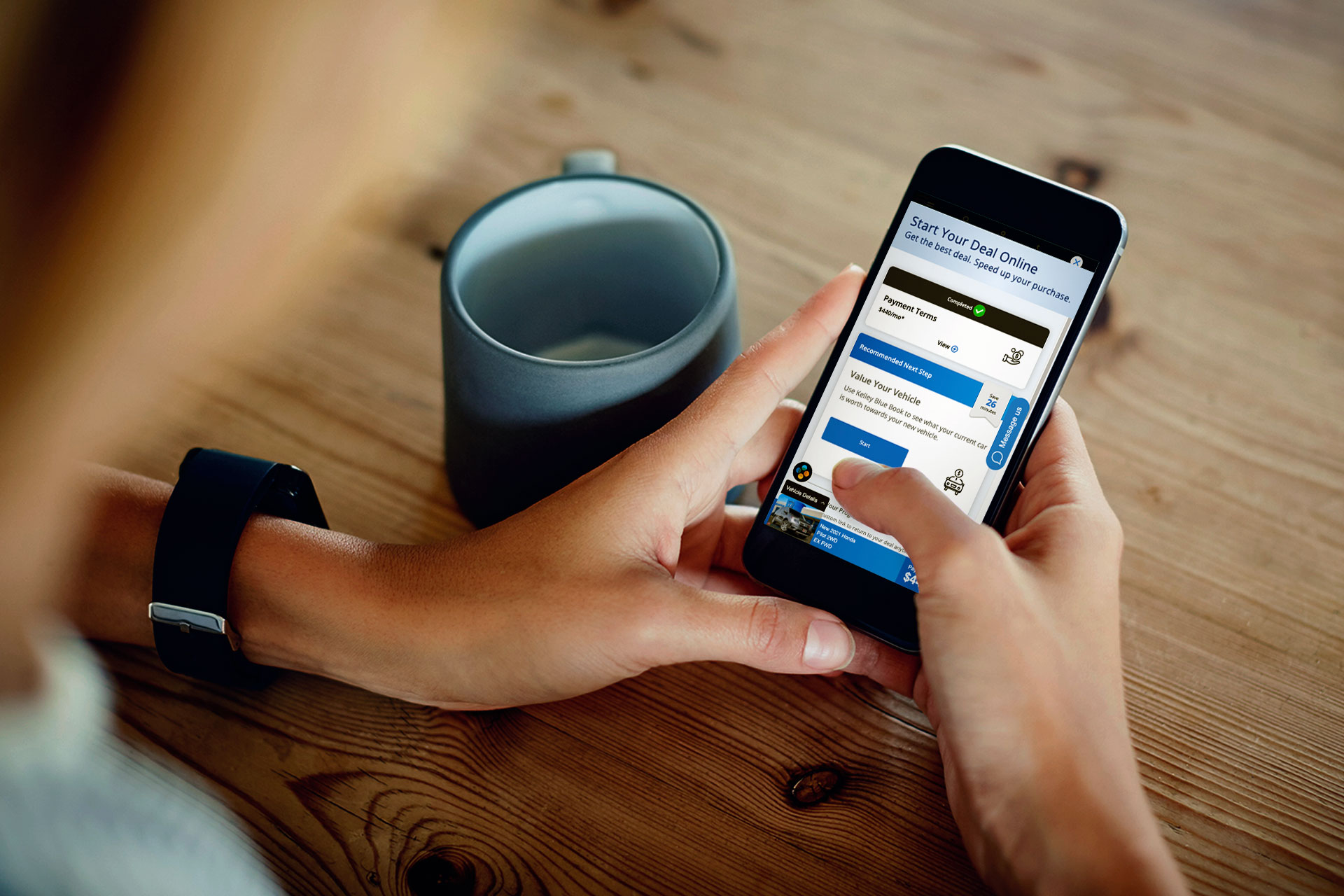 Dealers and consumers
are digitally focused
The way consumers search for and buy products has changed, and dealerships have been challenged to think about new ways of doing business over the internet. In fact, according to Cox Automotive research, 2 out of 3 shoppers want to do more online than they ever have. With both dealerships and consumers more aligned than ever before, a customer-first approach to retailing lays the groundwork for more automotive dealer leads and higher profits this year.
A next-generation experience
While the flexibility and conveniences of
digital retailing
are clear, the smart design guides the overall experience and saves time for both the consumer and the dealer. Your customers can easily navigate and engage with your website during different stages of their purchasing journey.
Our new guided consumer workflow allows the shopper to explore key content and drive the purchase process, building confidence and delivering more control over the entire process.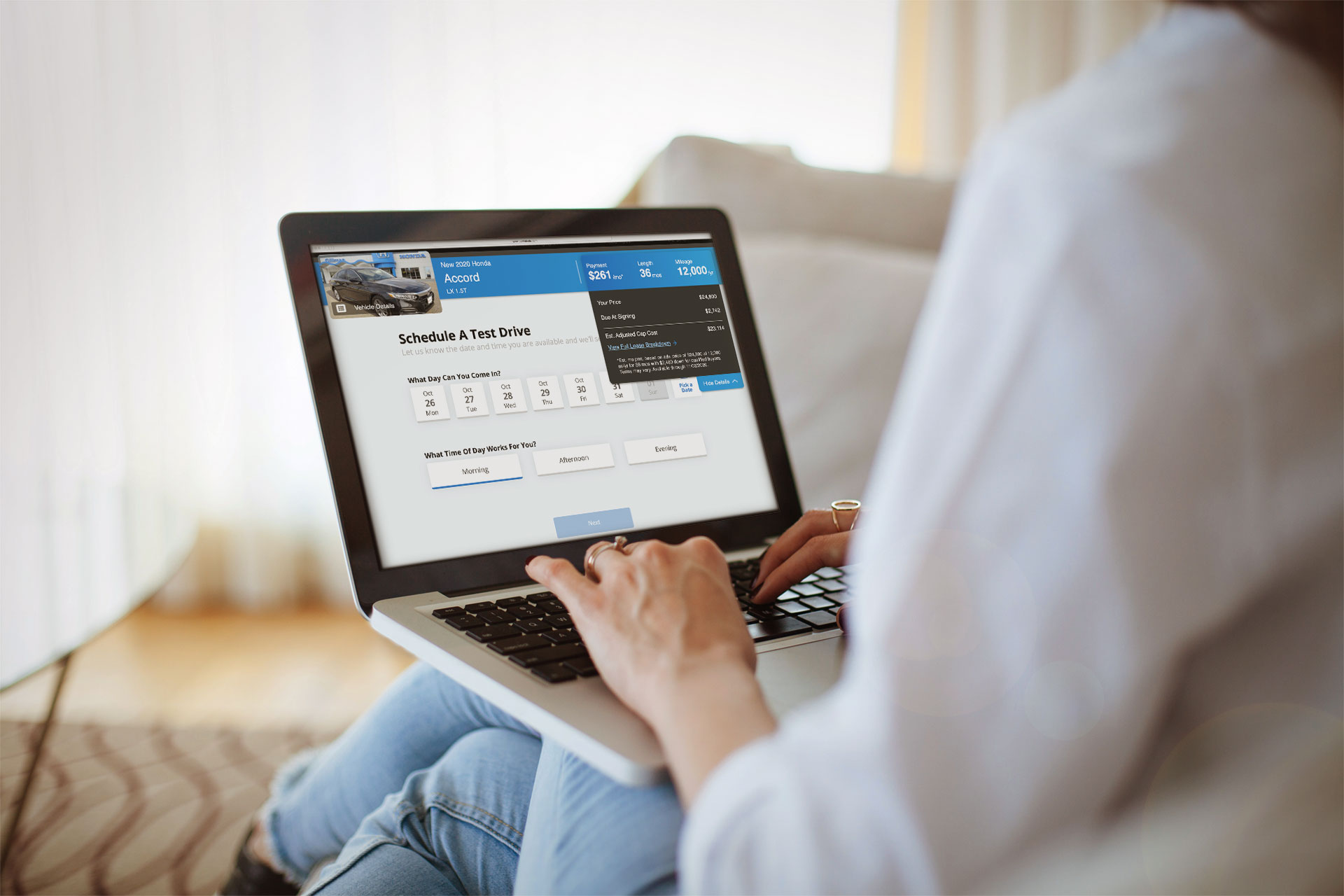 Experience equals performance
Trusted by more than 5,000 franchise and independent dealers, and endorsed by more than 30 automobile manufacturers, Accelerate My Deal dealer leads drive 30% higher gross profits. To fuel those profits, and convert more people to buyers, you need an intuitive, seamless car dealership lead generation experience that caters to all kinds of shoppers. The guided workflow does just that, boosting lead conversion rates by 26% among dealers testing the new guided user experience, resulting in an 88% increase in leads submitted per dealer.*
* Conversion Rate, Lead Performance, and Lead Quality were studied across 120 participating dealerships during four 90-day Beta Testing Periods beginning May 4, 2020 and ending October 8, 2020.
A guide to using your Digital Storefront metrics to measure performance.
Getting Started with Features Shoppers Will Love
Drive more qualified car buyer leads and close more dealership sales by improving transparency about your products and services with your customers at the start of their car buying process.
Adjust taxes and fees based on market zip code, and Include incentives along with personalized selections for conditional programs (e.g. military and loyalty cash).
Reduce friction of in-store trade-in value negotiations through Kelley Blue Book, the industry's most trusted resource.
Capture customer data and submit directly to preferred lenders. Customers can choose to complete a full credit application or short form inquiry to pre-qualify based on a dealership's financing criteria.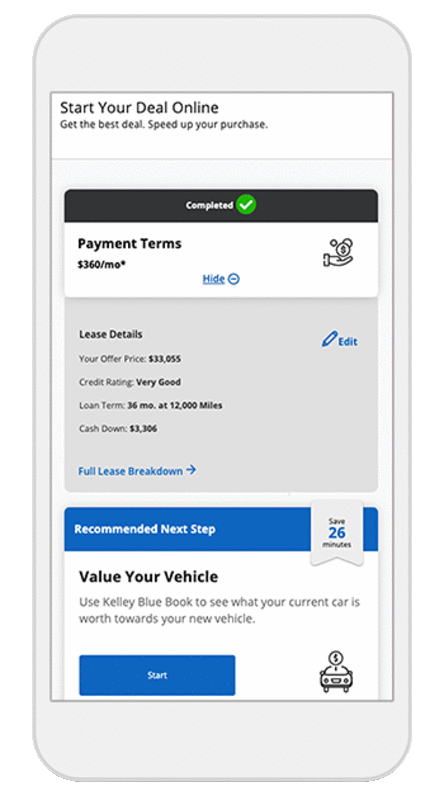 Showcase F&I products online and give consumers the ability to factor them into their monthly payments.
Assist shoppers through deals and boost your virtual car sales from anywhere with live Video Chat and Co-browsing capabilities. More effective than just talking over the phone, shoppers can chat face-to-face and share their screens as you guide them through the deal creation process.
Shoppers can reserve a vehicle without a deposit and schedule a test drive or an appointment for final close and pickup.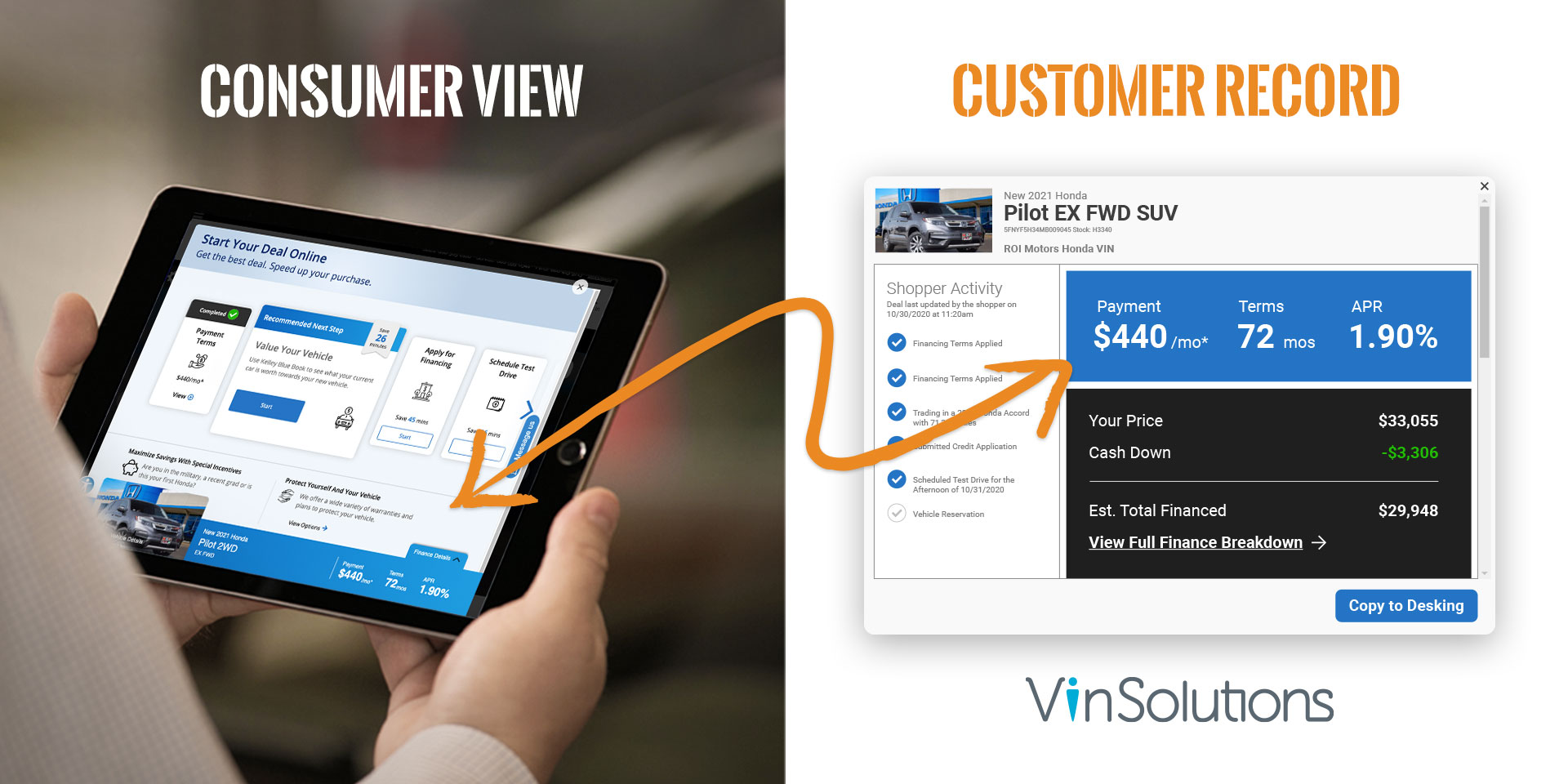 Seamless, Streamlined Deal Flow
Say goodbye to manual data entry and duplicate leads. By pairing Accelerate My Deal and VinSolutions Connect CRM & Connect Desking, you can eliminate repetitive tasks and smooth the way for faster deal-making. No matter how many times the shopper updates their deal, you'll see all their activity in a single customer record in your CRM. Now you can allow your staff to pick up the online deal without missing a beat. Or simply text or email a personalized deal directly from Connect CRM.
Specialized Support for
Optimal Results
Our Performance Managers will review your digital retailing experience with your team. Then, we'll work with you on deal-making strategies that help drive more sales, including:
Experts in automotive advertising and digital marketing, we deliver retailing solutions that are easy to incorporate so dealers are set for success from day one. Learn how a guided retail experience simplifies the sales process and drives more qualified, higher converting car sales leads and more profit potential.
Connect with a Dealer.com representative by completing the form.
Complete the form to book your digital retailing demo.