Pave their road straight to your TOYOTA dealership.
Digital Marketing Made Simple
It takes effort and expertise to execute custom digital marketing that complements your digital storefront and drives sales. Time spent managing campaigns is time that could be spent working directly with your customers.
That's where Dealer.com's Managed Services come into play. When you partner with us, you get custom digital content and the brainpower of hundreds of experts in both digital marketing and automotive sales. Together, we can create content and creative that sets you apart.
Get started on the road to Success
"*" indicates required fields
Through a unique, custom partnership powered by the industry's largest interdisciplinary team, Dealer.com's Managed Services help you integrate the digital servicesyou need most, eliminating the burden of juggling vendors and agencies.
Fuel your campaign strategy with digital content and creative development spanning homepage slideshows, campaign landing pages, digital ads and more. All campaigns are designed according to your specific goals, implemented by trained experts, and compliant with Toyota's brand guidelines.



Outrank and outperform your competition with the power of automotive's deepest and broadest SEO organization. Our team of strategists, analysts, program managers and copywriters work together on the industry's leading digital platform to ensure the highest possible level of organic search engine visibility and lead flow.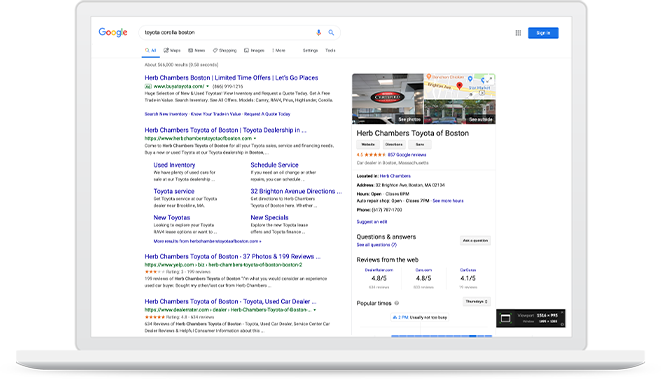 Let us help you engage and expand your social community like never before. Our strategists will tailor a digital strategy for today's most popular social media channels, update your social profiles, add impactful content and monitor your reputation. 
Enhance your operational efficiencies by providing a monthly site compliance review, bi-monthly website audit and assistance making on-site changes to align your site content with your strategy. Unlike "outsourced" providers, our service is coordinated through a digital team with comprehensive  knowledge of your Dealer.com solution.