Let's Drive Results.Together.

Precision Digital Advertising, Powered by Cox Automotive
You need to connect your vehicles and dealership services with in-market shoppers. We have the flexible, intelligent and secure advertising platform to make this happen. Dealer.com Advertising solutions combine more than a decade of digital advertising experience, unmatched in-market shopper data, and exclusive Cox Automotive business intelligence. Get the most effective advertising portfolio aligned to your strategy.
The Power is in the Portfolio
A multi-channel, data-powered, dealer-first portfolio drives more high-quality traffic, website engagement, and leads. 
Dealer.com's enhanced advertising solution delivers these key benefits:
Dealers using search and retargeting channels vs. those using search, display, retargeting, Facebook and SEO. May-October 2019.
How Can We Help

Maximize

Your Potential?
Precision advertising connects the right shopper to the right vehicle or service at the right time, every time. 
Smarter Channel Investments
Reach shoppers wherever they are online. Our platform deploys personalized, integrated ad campaigns that use advanced data-targeting, AI, and impactful creative. Attract prospective buyers and owners through search, display, social media and video channels.  
The breadth of data available across the Cox Automotive enterprise is your strategic advantage—no other automotive advertising partner comes close. Capitalize on buying signals from 3 of 4 automotive transactions for more relevant campaigns and more precise advertising content.
Agile Portfolio Management
Backed by an Advertising Performance Manager and our proprietary Compass Advertising Intelligence engine, build an advertising portfolio that can pivot when you need it to. Prioritize the vehicles and campaigns that are going to move metal and create new opportunities for all your profit centers. 
As your automotive advertising partner, we do more  to protect each dollar of your investment. We partner with White Ops and the Trustworthy Accountability Group, two fraud-busting powerhouses that detect bots and artificial traffic, making sure your ads reach real automotive shoppers.
We are here to support you with recommendations on how to personalize your advertising, reach out to customers, and syndicate your new sales process. Explore the latest innovations.
Downey's month-over-month spend increases have yielded higher traffic, VDP engagement and lead volume across all major advertising channels, all while costs have remained steady.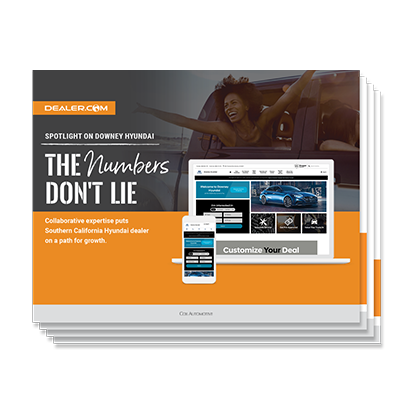 Let us show you what's new
Can we work together for stellar digital marketing results at your dealership? Please fill out the form to book a demo of Dealer.com solutions.