Get the complete
Digital Storefront.
Enrollment in the program is now open! Log in and select Dealer.com as your preferred certified vendor.
Unmatched Expertise.
Unrivaled data.
You've built a showroom designed for tailoring the buying experience for each customer that walks into your dealership. So why not bring the same level of detail to shoppers digitally? Build a digital storefront experience with Dealer.com, a Honda-certified website and digital advertising provider, through the Honda Digital Customer Experience.
Our automotive digital marketing technologies and strategic services provide the best consumer experience, letting you forge the shortest and most personalized path to purchase.

"

Through Honda's Website Choice Program, we provide all the levers dealers can pull in the digital marketing ecosystem whether it's on their website, through social channels or video. These tools have impact and will allow dealers to connect in a meaningful way to their customers.

"
Watch our

Honda Program Demo.
Watch Noah Lee, head of product consulting for Dealer.com, as he demonstrates how our award-winning platform delivers the technology and expertise to master consumer expectations.
Our collaborative, all-in-one approach to digital marketing paid off for Downey Hyundai.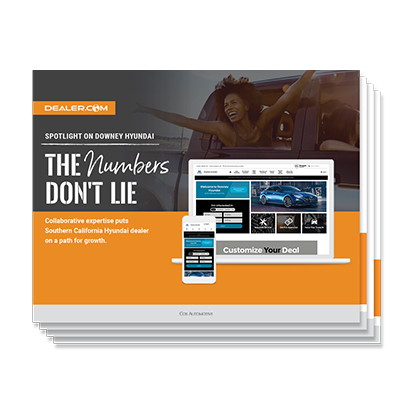 Complete the form to book your Dealer.com demo.
"*" indicates required fields
Connect with a Dealer.com sales consultant by calling 888.718.9331 or by completing the form.