Comprehensive performance analytics and reporting that drive your digital marketing strategy.
More than just metrics and data
To understand your digital performance—and track how you stack up against your competition—you need more than basic digital data. That's why we've engineered our intuitive reporting system to deliver a comprehensive review of your entire digital presence. Intuitive dashboards track both the quantity and quality of the traffic coming to your site and format this information into easy-to-read reports that inform your digital strategy. From advertising metrics to SEO and managed services campaign details, your Digital Advisor and Dealer.com strategists can help you apply these insights to guide your individual digital strategy, and give you a competitive edge.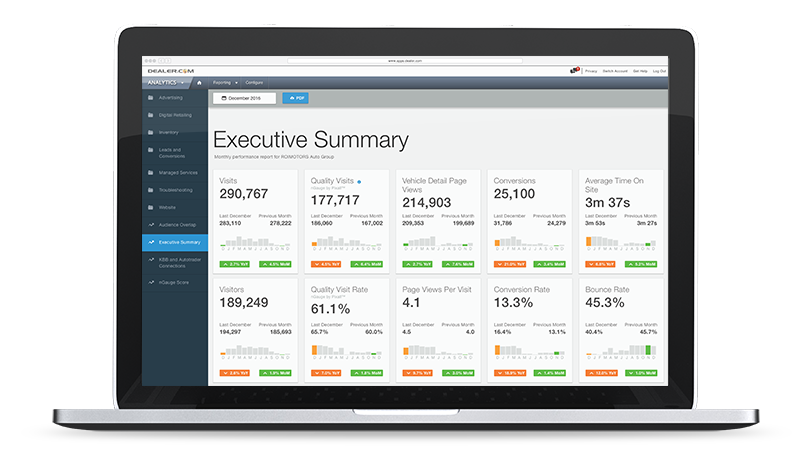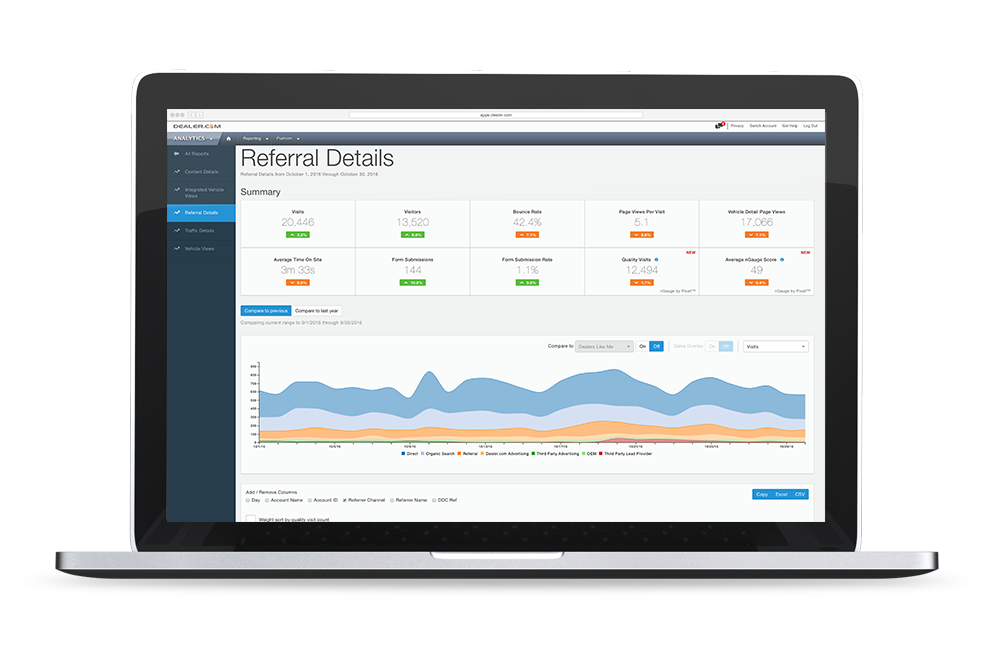 nGauge: the power to measure traffic quality
Our data scientists have now made it possible to measure automotive digital shopping behavior in a groundbreaking new way. The nGauge quality score, which is powered by Dealer.com's proprietary Pixall™ technology and fueled by Autotrader and Kelley Blue Book data, assigns meaning to a specific combination of online consumer engagement behaviors that most likely signal the intent to purchase a vehicle. The nGauge score helps you:
Focus your sales strategy on the most serious online car shoppers

Spend more time with the right opportunities

Prove digital advertising channel return on investment
It's cutting edge technology that pushes you ahead of the competition, now available in our award-winning ControlCenter.
A New Standard for competitive benchmarking
Over 180 KPIs, one easy-to-use benchmarking tool.
Want to see how you stack up against both your competition and other dealers like you? Now you can look at benchmarking analytics not only by region or brand region, but also group level…and even sub-group level. You'll have a clearer path to competitive advantage than ever before.
KPIs that drive ROI.
Our benchmarking engine has access to over 180 Key Performance Indicators (KPIs) that can be configured to benchmark your performance however you require.