Compared to desktop and tablet traffic, mobile traffic experienced the largest jump, a 41 percent page visits increase since 2013. The mobile usage increase didn't stop there; since 2013, mobile sites received 132 percent more page views per visits, and users spent 87 percent more time on dealerships' sites. To better understand where consumers are spending their time on mobile sites, we looked at mobile traffic trends. In 2014, more users were interested in used makes and models, as mobile site views on used cars outpaced new make and model views by almost 5 percent.
More specifically, we looked at mobile traffic by brand. For used cars, Dodge is the most highly viewed on mobile devices, followed by Ram. Ferrari received the most mobile views for new make-model vehicles, followed closely by the Lamborghini. Although views of new makes on mobile devices start off with luxury brands, they are immediately followed by economy brands.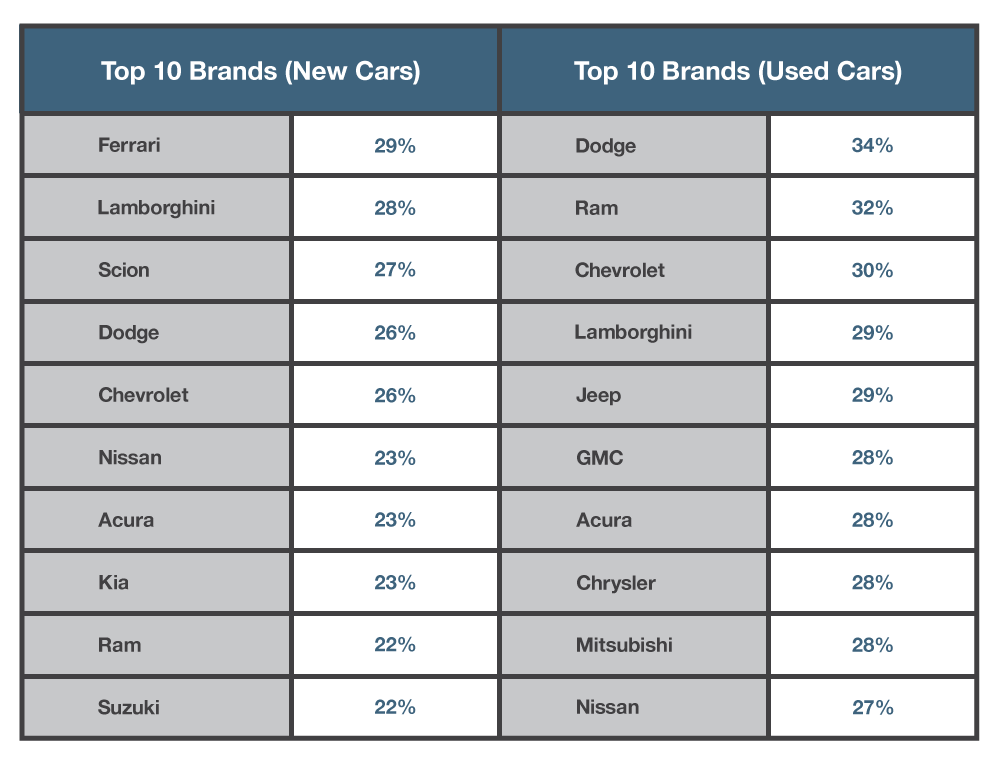 Dealerships should utilize this data to ensure their mobile strategy is aligned with consumer viewing patterns. Today's automotive shoppers want to do more of the critical shopping steps online, with a year-over-year increase from site visits and site visitors across mobile, tablet and desktop platforms. The steady increase over the course of 2014 paves the way for a continued increase of mobile, tablet and desktop page traffic throughout the new year. Dealers should also be aware that while user time on desktops declined, it soared by 86 percent on mobile devices since 2013.
This tells us that dealers should focus on their integrated in-store to online experience. Creating a seamless experience, customized per platform, while maintaining brand image and design, is critical for success in 2015. Users are not only looking, but expecting quick and easy-to-use optimization and consistent branding and quality of experience across all devices.  A catered approach is needed in order to bridge the device gap and provide the best of both worlds to your customers. A satisfied user is much more likely to continue to stay on your site, and therefore become a potential buyer.
Staying consistent with a rise in mobile views, social media continues to have a positive and increased effect on user interactions with dealership sites. Month-to-month, those coming from social channels visited 66 percent more pages per visit and spent 85 percent more time on dealerships' sites. If your dealership has not already, now is the time to optimize your brand and create a strong presence on Facebook, Google+ and Twitter.
Dealer and Dealertrack's new products offer a fully integrated online to in-store experience. A demo from the products across our connected line of solutions will be available at the upcoming NADA Convention. Pre-register here.
Dave Winslow is Vice President, Digital Strategy at Dealer.com
*2014 data runs from January 1, 2014-December 19, 2014